Together in a Sudden Strangeness: America's Poets Respond to the Pandemic (Hardcover)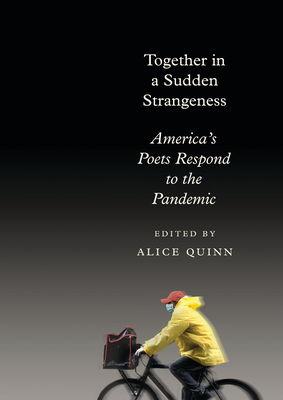 Description
---
In this urgent outpouring of American voices, our poets speak to us as they shelter in place, addressing our collective fear, grief, and hope from eloquent and diverse individual perspectives.

**Featuring 107 poets, from A to Z—Julia Alvarez to Matthew Zapruder—with work in between by Jericho Brown, Billy Collins, Fanny Howe, Ada Limón, Sharon Olds, Tommy Orange, Claudia Rankine, Vijay Seshadri, and Jeffrey Yang**

As the novel coronavirus and its devastating effects began to spread in the United States and around the world, Alice Quinn reached out to poets across the country to see if, and what, they were writing under quarantine. Moved and galvanized by the response, the onetime New Yorker poetry editor and recent former director of the Poetry Society of America began collecting the poems arriving in her inbox, assembling this various, intimate, and intricate portrait of our suddenly altered reality.

In these pages, we find poets grieving for relatives they are separated from or recovering from illness themselves, attending to suddenly complicated household tasks or turning to literature for strength, considering the bravery of medical workers or working their own shifts at the hospital, and, as the Black Lives Matter movement has swept the globe, reflecting on the inequities in our society that amplify sorrow and demand our engagement.

From fierce and resilient to wistful, darkly humorous, and emblematically reverent about the earth and the vulnerability of human beings in frightening times, the poems in this collection find the words to describe what can feel unspeakably difficult and strange, providing wisdom, companionship, and depths of feeling that enliven our spirits.

A portion of the advance for this book was generously donated by Alice Quinn and the poets to Chefs for America, an organization helping feed communities in need across the country during the pandemic. 
About the Author
---
ALICE QUINN, the executive director of the Poetry Society of America for eighteen years, was also the poetry editor at The New Yorker from 1987 to 2007 and an editor at Alfred A. Knopf for more than ten years prior to that. She teaches at Columbia University's School of the Arts and is the editor of a book of Elizabeth Bishop's writings, Edgar Allan Poe & The Juke-Box: Uncollected Poems, Drafts, and Fragments, as well as a forthcoming book of Bishop's journals. She lives in New York City and Millerton, New York
Praise For…
---
"Both cathartic and challenging . . . This collection appears at the exact moment when the nuanced and profound nourishment it offers may be needed most . . . The diversity of voices represented by these poets reflects the endless variety of circumstances under which people have had to face this worldwide event . . . In these poems, we experience the enduring capacity of the human imagination to locate meaning, beauty, and witness—even in the direst circumstances." —Emily Choate, Chapter 16

"One of the best books of poetry of the year . . . Quinn has accomplished something dizzying here: arranged a stellar cast of poets, some with [Diane] Seuss's satirical eye, others with a fresh deep down sentiment. It is what all great anthologies must be: comprehensive, contradictory, stirring." —Nick Ripatrazone, The Millions
We appreciate your continued support!
If you would like to make a donation to help us through CLICK HERE.