The Soul of a Woman (Hardcover)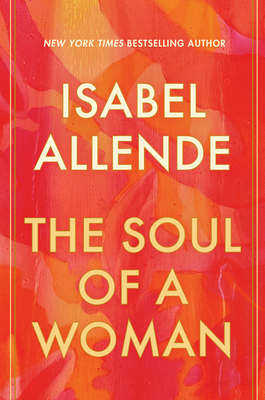 Description
---
From the New York Times bestselling author of A Long Petal of the Sea comes "a bold exploration of womanhood, feminism, parenting, aging, love and more" (Associated Press).

"The Soul of a Woman is Isabel Allende's most liberating book yet."—Elle

"When I say that I was a feminist in kindergarten, I am not exaggerating," begins Isabel Allende. As a child, she watched her mother, abandoned by her husband, provide for her three small children without "resources or voice." Isabel became a fierce and defiant little girl, determined to fight for the life her mother couldn't have.

As a young woman coming of age in the late 1960s, she rode the second wave of feminism. Among a tribe of like-minded female journalists, Allende for the first time felt comfortable in her own skin, as they wrote "with a knife between our teeth" about women's issues. She has seen what the movement has accomplished in the course of her lifetime. And over the course of three passionate marriages, she has learned how to grow as a woman while having a partner, when to step away, and the rewards of embracing one's sexuality.

So what feeds the soul of feminists—and all women—today? To be safe, to be valued, to live in peace, to have their own resources, to be connected, to have control over our bodies and lives, and above all, to be loved. On all these fronts, there is much work yet to be done, and this book, Allende hopes, will "light the torches of our daughters and granddaughters with mine. They will have to live for us, as we lived for our mothers, and carry on with the work still left to be finished."
About the Author
---
Isabel Allende won worldwide acclaim in 1982 with the publication of her first novel, The House of the Spirits. Since then, she has authored twenty-five bestselling and critically acclaimed books, which have been translated into more than forty-two languages. In addition to her work as a writer, Allende devotes much of her time to human rights causes. In 1996, following the death of her daughter, Paula Frias, she established a charitable foundation in her honor, which has awarded grants to more than one hundred nonprofits worldwide on behalf of women and girls. In 2014, President Barack Obama awarded Allende the Presidential Medal of Freedom, the nation's highest civilian honor, and in 2018 she received the Medal for Distinguished Contribution to American Letters from the National Book Foundation. She has also received PEN Center USA's Lifetime Achievement Award. Raised in Chile, she now lives in California.
Praise For…
---
Praise for the books of Isabel Allende

The Sum of Our Days: A Memoir

"[Isabel] Allende is a genius."—Los Angeles Times Book Review

"[Allende] executes this epistolary memoir with the same authenticity and poetry that grace her fiction. . . . Allende is a survivor worth reading and emulating."—The Dallas Morning News

My Invented Country: A Nostalgic Journey Through Chile

"Charming and entertaining."—The New York Times Book Review

"A stunningly intimate memoir . . . Allende is that rare writer whose understanding of story matches her mastery of language."—Entertainment Weekly

Aphrodite: A Memoir of the Senses

"Allende's vivacity and wit are in full bloom as she makes her pronouncements. . . . Her book is filled with succinct wisdom and big laughs. . . . As always, her secret weapon is honesty."—Publishers Weekly

"Allende teases, tempts and titillates with mesmerizing stories."—The Washington Post

Paula: A Memoir

"Allende has an exciting life story to tell."—Booklist

"A magician with words."—Publishers Weekly
We appreciate your continued support!
If you would like to make a donation to help us through CLICK HERE.