El año en que aprendimos a volar (Hardcover)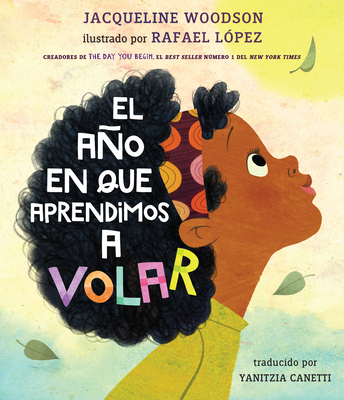 $18.99
This item is not currently available to order.
Description
---
Los creadores del best seller número 1 del New York Times The Day You Begin se unen de nuevo para deslumbrar a los lectores con una historia que rinde homenaje al poder que hay en cada uno de nosotros para soñar algo y hacerlo realidad.


En un día triste y aburrido, un hermano y una hermana prestan atención al consejo de su abuela:
«Utilicen esas mentes hermosas y brillantes que tienen. Alcen los brazos, cierren los ojos, respiren profundo y crean en algo. En algún lugar, en algún momento, alguien estuvo tan aburrido como ustedes ahora».


Y antes de que se den cuenta, su imaginación los eleva y los saca del aburrimiento. Luego, en un día lleno de peleas, siguen el consejo de Abuela y descubren que son capaces de dejar atrás su ira. Esta preciosa habilidad, les dice su abuela, se remonta a días mucho antes de que nacieran, cuando sus antepasados mostraron al mundo la fuerza y la resistencia de sus hermosas y brillantes mentes.

About the Author
---
Jacqueline Woodson (jacquelinewoodson.com) recibió la Beca MacArthur 2020, el Premio Hans Christian Andersen 2020, el Premio Astrid Lindgren Memorial 2018 y el Premio Children's Literature Legacy 2018, y fue la embajadora nacional de la literatura juvenil 2018-2019. Su libro de memorias, Brown Girl Dreaming, best seller del New York Times, ganó el Premio National Book, el Premio Coretta Scott King, un Premio de honor Newbery y un Premio NAACP Image. Entre sus libros para niños se encuentran: Before the Ever After, ganador del Premio Coretta Scott King, The Day You Begin y Harbor Me, best sellers del New York Times, y los ganadores del Premio de honor Newbery, Feathers, Show Way, After Tupac and D Foster, y Each Kindness, que ganó el Premio Jane Addams Children's Book.

Rafael López (rafaellopez-books.com) ilustró los best sellers del New York Times The Day You Begin (de Jacqueline Woodson) y Just Ask! (de la jueza del Tribunal Supremo de los Estados Unidos Sonia Sotomayor). Ganó la medalla Pura Belpré por Drum Dream Girl y Book Fiesta, y también ha recibido tres premios de honor Pura Belpré, dos premios Américas Book, el Premio Tomás Rivera Children's Book 2017 y la medalla de plata de la Sociedad de Ilustradores. Su trabajo ha aparecido en Communication Arts, American Illustration Annual, Graphic Design USA y HuffPost. Es uno de los fundadores del movimiento Urban Art Trail de San Diego, ha creado siete sellos de correos de Estados Unidos y creó carteles oficiales para las campañas de Obama-Biden en 2008 y 2012.