The Very Secret Society of Irregular Witches (Paperback)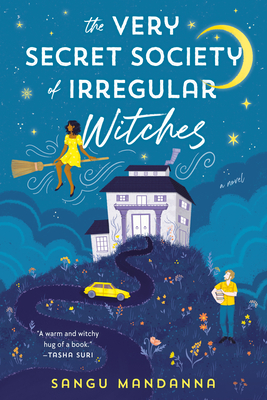 Staff Reviews
---
I'm head over heels for this absolute charmer of a novel! Orphaned witch Mika Moon spends most of her time on her own, as common witch wisdom of the day states that solitary witches are less likely to get found out. She can't help herself but create a 'fake' social media account where she posts theatrical videos of her at-home spell making, sure that no one out there would ever take her seriously. But when a distant family of witches sends her a message asking for help, her safe, witchy world is turned upside down. This is by far the most fun, uplifting, magical (and spicy!) romance read of my whole summer.
— Noelle
September 2022 Indie Next List
---
"I chose this book because of the wonderful title. I stayed through the end because of Mika Moon, our ridiculously charming reluctant heroine. We should all have a friend like Mika. Magic, family, romance, home — this book has it all!"
— Lisa Reid, Lucy's Books, Astoria, OR
Description
---
A warm and uplifting novel about an isolated witch whose opportunity to embrace a quirky new family—and a new love—changes the course of her life.

As one of the few witches in Britain, Mika Moon knows she has to hide her magic, keep her head down, and stay away from other witches so their powers don't mingle and draw attention. And as an orphan who lost her parents at a young age and was raised by strangers, she's used to being alone and she follows the rules...with one exception: an online account, where she posts videos "pretending" to be a witch. She thinks no one will take it seriously.
 
But someone does. An unexpected message arrives, begging her to travel to the remote and mysterious Nowhere House to teach three young witches how to control their magic. It breaks all of the rules, but Mika goes anyway, and is immediately tangled up in the lives and secrets of not only her three charges, but also an absent archaeologist, a retired actor, two long-suffering caretakers, and…Jamie. The handsome and prickly librarian of Nowhere House would do anything to protect the children, and as far as he's concerned, a stranger like Mika is a threat. An irritatingly appealing threat.
 
As Mika begins to find her place at Nowhere House, the thought of belonging somewhere begins to feel like a real possibility. But magic isn't the only danger in the world, and when peril comes knocking at their door, Mika will need to decide whether to risk everything to protect a found family she didn't know she was looking for....
 
About the Author
---
Sangu Mandanna is the author of The Very Secret Society of Irregular Witches, Kiki Kallira Breaks a Kingdom, and several other novels about magic, monsters and myths. She lives in Norwich, a city in the east of England, with her husband and three kids.
Praise For…
---
"The Very Secret Society of Irregular Witches is a warm and witchy hug of a book. Full of endearing characters, romance and found family, it's the cozy magical romance you've been waiting for. I absolutely adored it!"—Tasha Suri, Author of The Jasmine Throne

"A cozy tale about the powerful alchemy of believing we are worthy of the family we find. Full of charm, wit, romance, and an affirmation that we are all deserving of love and real magic." —Travis Baldree, Author of Legends and Lattes

"The story is full of romance and chosen family, with just the right amount of whimsy...Reading about Mika's slow healing from the wounds of her lonesome is a healing experience for the reader, too." - The Washington Post

"This gorgeously cozy romantic fantasy sparkles with real magic, love, and joy. A perfect comfort read."—Stephanie Burgis, Author of Scales and Sensibility and Snowspelled

"Witty, witchy, and wonderfully romantic, The Very Secret Society of Irregular Witches will warm your heart with its endearing characters, grumpy-sunshine love story, and gorgeously sparkling magic."—India Holton, Author of The Wisteria Society of Lady Scoundrels

"Absolutely charming, adorably witty, and features an endearing cast of characters and a wonderfully tricky and romantic plot. This is a lighthearted tale of a coven everyone will long to join!"—Louisa Morgan, Author of A Secret History of Witches
 
"Sangu Mandanna spins a bewitching tale of found family, magic, and the power of love. Dark humor and bright writing abound in The Very Secret Society of Irregular Witches, and readers are sure to be charmed."—Award-winning author Suleikha Snyder

"Mandanna crafts a cast of winningly quirky characters, each with their own part to play in Mika's path to belonging... This charming romantic fantasy is a gem."—Publishers Weekly (starred review)

"This book is like a warm welcome home and is sure to find itself being a comfort read for many… Mandanna's first adult novel is a positively adorable romantic fantasy." —Library Journal (starred review)

"Beautifully written with gentle humour and a lot of heart; it will wrap you up in a warm fluffy blanket and surround you with joy, laughter and contentment." - The Nerd Daily