Suz's Spies The Guide to Day Spas New York City (Paperback)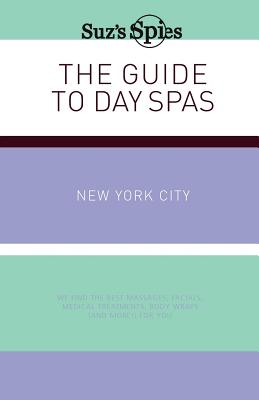 $16.95

Available in our Warehouse: Usually Ships in 3-8 Days
Description
---
Over the last two years, a covert team of spies spread out across Manhattan to deliver the only comprehensive and un-biased guide to day spas in New York City. With hundreds of day spas in the city alone, where do you begin? Let our spies do the work for you. Use this well organized, concise and current guide to:
Get the inside scoop on the best treatments & services
Discover those hard to find gems
Learn what to expect from nearly each and every day spa in the city
Determine which spa is right for you at any time
Not one treatment was given away to our spies. Our reviews are based on each spy spending their own time and money on their spa experience. This way, our spies experienced spa-going the way you do, good and bad.
Suz's Spies The Guide To Day Spas New York City
is essential for anyone interested in looking and feeling their best. Now you'll have all the answers, so get reading and get spa-ing. "Get honest reviews of the vast array of day spas in New York City."-Hannelore R. Levy Founder and Executive Director The Day Spa Association and The International Medical Spa Association "A terrifically helpful guide-don't book an appointment without it."-Sarah Mlynowski author of
Milkrun and Monkey Business