Night of the Living Worms (Speed Bump & Slingshot Misadventure) (Prebound)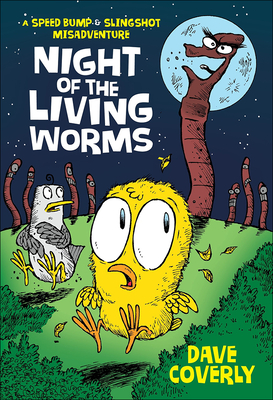 $19.58
This item is not currently available to order.
Other Books in Series
Description
---
What's a bird to do when his sibling is a big-time celebrity? It's a question Speed Bump has to deal with every single morning because his brother happens to be the one and only Early Bird. You know, THE Early Bird, who ALWAYS gets the worm Unfortunately, Speed Bump is a sleepy little bird with a big head and tiny wings who's worried he'll never live up to his brother. But he has a great buddy, the ever-hungry Slingshot, who knows how to lift his spirits. Together, they end up on an adventure deep in the nighttime forest, where they're forced to confront something more terrifying--and slimier--than they've ever imagined. It could all go horribly wrong . . . or it could just change Speed Bump's luck for good.
"Night of the Living Worms" is a laugh out loud adventure that's perfect for younger readers. From award-winning cartoonist Dave Coverly, the hilarious, zany illustrations and addictive humor of this chapter book series will be sure to delight.
"Dave Coverly is ridiculously funny and clever and creative. I'm jealous of his bird brain." -Stephan Pastis, "New York Times-"bestselling author of the Timmy Failure series.
About the Author
---
Dave Coverly is an internationally syndicated cartoonist whose Speed Bump cartoons appear in more than four-hundred newspapers, including" "the" Washington Post," the" Detroit Free Press," and "Parade." He is the illustrator of "Sue MacDonald Had a Book" and "The Very Inappropriate Word." The winner of the prestigious Reuben Award for Best Cartoonist, Dave lives in Ann Arbor, Michigan.