Judy Moody Declares Independence (Prebound)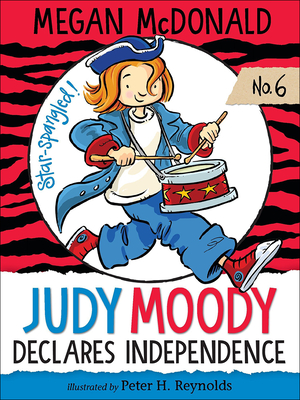 $18.48
This item is not currently available to order.
Description
---
When a visit to Boston spurs Judy's interest in Revolutionary heroes and heroines, she's soon on a quest for more independence in this hilarious new episode from Megan McDonald and Peter H. Reynolds. Huzzah She, Judy Moody, would hereby, this day, make the Judy Moody Declaration of Independence. With alien rights and her own Purse of Happiness and everything. Hear ye Hear ye Everyone knows that Judy Moody has a mood for every occasion, and now a visit to Boston has put our famous third grader in a revolutionary mood. When Judy meets an English girl named Tori at the Tea Party ship, she is gobsmacked to learn how many liberties her British friend enjoys i1/2 her very own phone, private loo, and pounds of allowance. When a day of cheerfully doing her chores doesn't earn Judy Moody more rights, and staging a revolt in the form of a tea-throwing Boston Tub Party has her dad reading the riot act, Judy is forced into temporary retreat. Who would guess that a real-life crisis involving her brother, Stink, would finally give Judy a chance to show her courageous quick thinking i1/2 and prove her independence, once and for all?
About the Author
---
Megan McDonald is the author of the awardwinning JUDY MOODY, JUDY MOODY GETS FAMOUS!, JUDY MOODY SAVES THE WORLD!, JUDY MOODY PREDICTS THE FUTURE, and JUDY MOODY, M.D.: THE DOCTOR IS IN! She says, "Judy is already an independent thinker, and so it was natural that she would write her own Declaration of Independence -- declaring independence from brushing her hair, little brothers, and bedtime. When writing JUDY MOODY DECLARES INDEPENDENCE, I walked the Freedom Trail with my editor one snappy-cold October day and filled myself up with Revolutionary history. And guess what? There really is a musical toilet! No lie!" Peter H. Reynolds is the illustrator of all six Judy Moody books. He says, "My work with children in the past twenty years has very much been around the theme of self-determination. JUDY MOODY DECLARES INDEPENDENCE is about exactly that -- learning how to think for oneself. This newest Judy-jaunt is a tribute to the independent spirits we hope to inspire, and her antics are sure to get readers in a mood to celebrate original thinking. I love Judy's feisty and creative spirit. She and her friends are like family to me now."