Looking for the Light: A journey of pregnancy loss, grief and healing. (Paperback)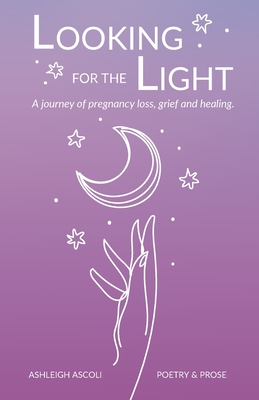 $14.84

Available in our Warehouse: Usually Ships in 3-8 Days
Description
---
For all those who are healing, grieving and looking for the light in the darkest of nights.
When the night itself,
Is a living thing,
Pulsing with pain,
And aching with grief,
I close my eyes,
And hold my breath,
And cling tight to the hope,
That brighter days are ahead,
The sun will rise,
From the depths of this night,
And I will follow,
In her stride.
About the Product
Dive into this collection of over sixty-five poems and pieces of prose inspired by the journey of pregnancy loss, grief and healing.
Looking for the Light explores the raw, honest and heartbreaking reality of pregnancy loss; and provides a gentle, hope-filled message that there is light to be found, even in the darkest of times. Divided into two sections: The Darkest Night and The Sun Will Rise. This collection will take you on a journey of healing, joy, heartache, grief and self-discovery.
About the Author
Ashleigh Ascoli lives in the Northern Territory of Australia and has been expressing herself through the written word since a young age. Ashleigh has experienced recurrent miscarriages and recurrent partial molar pregnancies. Her hope is to provide comfort and solace to other women and families experiencing loss.
Praise for Looking for the Light:
"Wow Looking for the Light dived into my soul. Ashleigh's words are so beautifully powerful. From someone who spent 7-years battling with infertility and loss, this book completely and eloquently captures how this feels - on one hand there is grief so deep it consumes you, but at the same time there is growth and hope for brighter days. One can't exist without the other. I feel like this book has given permission for both. This collection gives those who have been touched by infertility and loss a voice, and comfort that they are not alone."
- Jennifer Robertson, Author and Fertility Coach
"A beautifully written book portraying the darkness of grief followed by the light ahead. Once I started reading I couldn't stop. The poems felt like words taken out of my own heart. The whole book really resonated with me and I couldn't recommend this book enough "
- Lauren @truths_of_miscarriage
"Looking for the Light is an achingly beautiful and visceral collection of poetry that is teeming with love. So elegant in its delivery. So generous in its honesty. Words that will stay with me."
- Karen McMillan, Author of Mother Truths