Turning Your Business Into A Success Monster: The LinkedIn B2B Lead Generation Revolution (Paperback)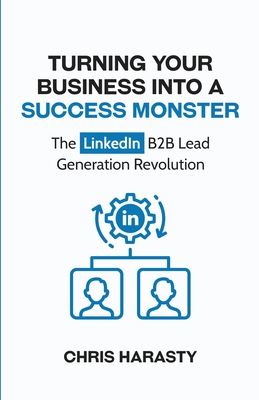 $19.99

Available in our Warehouse: Usually Ships in 3-8 Days
Description
---
Do you struggle to get your business to rank higher?Does it feel like your business is always lacking something to succeed but you don't seem to know what is missing?Does using LinkedIn seem daunting?Does the platform seem too competitive for your business to dominate?Do you want to grow your business but don't know how or where to start?
If "Yes" is your answer, then this book is definitely for you
In today's highly competitive business world, it's impossible to survive without exceptional marketing. Businesses who can reach more customers are much more likely to win the game.
Quality is always important, but strategy is by far the most important factor for success.
Having a solid background in marketing, lead generation, sales, communication, and strategy has become a necessity for exceptional business success. Knowledge in these areas is no longer optional.
Whether you've been in the business for a day or for a whole lifetime, Turning Your Business into a Success Monster should be your next step.
In this book, you'll comprehensively explore the following areas, to get the best out of your business:
How the Sales Function works
Effective Methods of Prospecting & Lead Generation
All You Need to Know About the LinkedIn Platform
What Is Business Strategy?
The Sales Revenue Maximizer Model
The 1-a-Week Prospecting Approach
Profile Optimization Tips
How to Maintain Professional Communication
The Scripts
In addition, you'll explore 3 important new strategies, which will help accelerate your business growth:
Targeted Lead Generation Strategies
Broadcast Strategies
Accelerator Strategies
The book is divided into 14 chapters; each chapter is supported by a lecture, which is written in a simple style to show you the best models and/or examples to apply to fast-track your business growth journey.
With Turning Your Business into a Success Monster, you'll be able to change your entire sales and prospecting process into a revolutionary method that is safe and proven. Filled with extensive expert advice, research outcomes, experiences, examples, models, and clearly explained strategies, you'll explore how to integrate proven business strategies into your business while avoiding mistakes.
Get Started with Turning Your Business into a Success Monster Add it to your cart now.