Titanic Sinks!: Experience the Titanic's Doomed Voyage in this Unique Presentation of Fact andFi ction (Hardcover)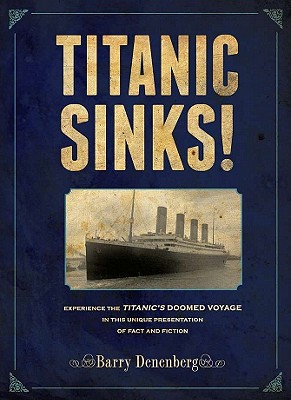 $21.99
This item is not currently available to order.
Description
---
To commemorate the 100th anniversary of the sinking of the Titanic, Barry Denenberg has created a one-of-a-kind, high-concept book that's a unique combination of fiction and nonfiction. He uses a fictional framework to present the true story of the building and launching of the Titanic and to give a "you are there" feeling as the ship goes down. Lavishly designed with authentic period photographs and illustrations throughout, Titanic Sinks! immerses you in the era of the Titanic and reminds you why it's still a cultural touchstone a hundred years after its demise.
About the Author
---
Barry Denenberg lives in Bedford, New York.
Praise For…
---
"Denenberg brings the story of the Titanic to life in a way that is both informative and accessible." — School Library Journal, starred review

"This gripping recounting of the Titanic's doomed maiden voyage...[is] a polished and engaging account of one of the 20th century's most infamous disasters." — Publishers Weekly, starred review

"The text is lively, compelling and convincing . . . This is history at its best, an original and appealing way to mark the centennial of this familiar disaster." — Kirkus, starred review

"Rousing and plenty eerie. The larger-than-usual format allows for readers to be awed by the same thing that awed onlookers in 1912: the gigantic size of everything." — Booklist, starred review