This Is Not an Accident (Hardcover)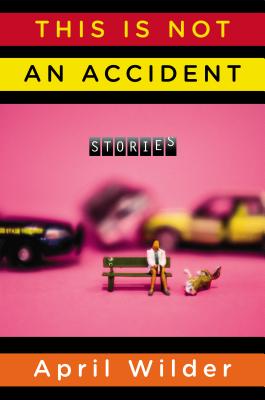 $28.30
This item is not currently available to order.
Description
---
From a truly distinctive voice brimming with wicked humor, tales of the little disasters that befall and befuddle us
April Wilder's characters (some normal, some less so) have this in common: they are spiraling (or inching) toward self-destruction. An almost poetic range of disasters are sought out and savored in "This Is Not an Accident," from bad romance to iffy adoption decisions to unsteady liaisons with animals and dolls; from compulsive driving to compulsive written correspondence with oneself.
A house sitter hides among poets in Salt Lake City after his canine charge dies tragically. A grandma's boyfriend holds a backyard barbecue under siege--with the kids as his pint-sized guards. The world of these slightly off-center individuals is similarly off by a few degrees. But by the end, we realize it's not as far off as we would like to think: this is modern American life. What Wilder captures is not a dark side, but rather the side we all know well and hide from others, and ourselves. In the tradition of Wells Tower and Jim Shepard, "This Is Not an Accident "signals a bold new voice and delivers the kind of insanely incisive moments only a master of the human condition can conjure.
About the Author
---
April Wilder's short fiction has appeared in several literary journals including "Zoetrope," "McSweeney's," and "Guernica Magazine." A former Fiction Fellow from the Institute for Creative Writing in Madison, Wisconsin, Wilder holds a BS in math from UCLA, an MFA in fiction from the University of Montana, and a PhD in literature/creative writing from the University of Utah. She lives with her daughter in Salt Lake City and California. Visit www.AprilWilder.com.
Praise For…
---


"Off-kilter, wacky, disaster-prone: The characters in Wilder's inventive stories are all these things, and they're also unmistakably, disconcertingly familiar." —O, the Oprah magazine

"Wilder's observations are startling and effective, her descriptions clever and distinctive, and her writing stunning, impossible to ignore or take lightly; imagine Andy Warhol's soup can meets Vincent van Gogh's starry night. VERDICT Edgy, bizarre, exaggerated, this book can be exasperating yet very entertaining. Not for readers seeking sweetness and light along the lines of a Hallmark card–type read." --Library Journal, starred review

"The stories often pivot on the upending of clichés but also focus equally on the difficult equilibrium of relationships between all sorts of people. Excellent meditations on the human condition, well-suited to rest alongside the likes of Denis Johnson and Richard Ford." —Kirkus

"[Wilder's] gifts include a knack for sketching her characters' thoughts and the ease with which she draws readers into their stories. … Symbolically rich… Wilder draws on both humor and tragedy to deliver her insights." —Publishers Weekly

"Dark and introspective... the characters here are all broken in some way, and all are very believable. Wilder's voice is crisp and contemporary, burying meaning in the depth of her characters' thoughts and actions and leaving interpretation up to the reader. Readers familiar with the short stories of Wells Tower will find similar explorations of troubled relationships here." —Booklist

"Wilder is by turns witty, poignant and insightful. She does not shy away from complex issues… She can also deliver a gut-wrenching clincher. Wilder is occasionally reminiscent of Pam Houston, another exceptional American writer… Wilder is a talent to watch." –The Toronto Star