Blythewood (Hardcover)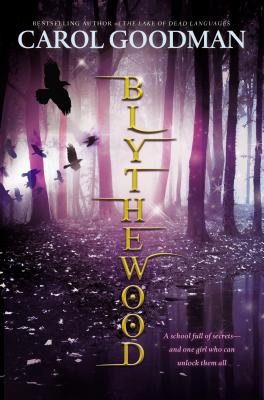 Email us for price & availability: info@oblongbooks.com
Special Order - Subject to Availability
Description
---
Welcome to Blythewood.
At seventeen, Avaline Hall has already buried her mother, survived a horrific factory fire, and escaped from an insane asylum. Now she's on her way to Blythewood Academy, the elite boarding school in New York's mist-shrouded Hudson Valley that her mother attended and was expelled from. Though she's afraid her high society classmates won t accept a factory girl in their midst, Ava is desperate to unravel her family's murky past, discover the identity of the father she's never known, and perhaps finally understand her mother's abrupt suicide. She's also on the hunt for the identity of the mysterious boy who rescued her from the fire. And she suspects the answers she seeks lie at Blythewood.
But nothing could have prepared her for the dark secret of what Blythewood is, and what its students are being trained to do. Haunted by dreams of a winged boy and pursued by visions of a sinister man who breathes smoke, Ava isn t sure if she's losing her mind or getting closer to the truth. And the more rigorously Ava digs into the past, the more dangerous her present becomes.
Vivid and atmospheric, full of mystery and magic, this romantic page-turner by bestselling author Carol Goodman tells the story of a world on the brink of change and the girl who is the catalyst for it all.
About the Author
---
Carol Goodman is the author of "The Lake of Dead Languages, The Seduction of Water, The Drowning Tree, The Ghost Orchid," "The Sonnet Lover," "The Night Villa "and "Arcadia Falls." Her work has appeared in such journals as "The Greensboro Review, Literal Latte, Midwest Quarterly, New York Quarterly "and "Other Voices." After graduating from Vassar College, where she majored in Latin, she taught Latin for several years in Austin, Texas. She then received an M.F.A. in fiction from the New School University, where she now teaches writing. She has been nominated for the IMPAC award twice, the Simon & Schuster/Mary Higgins Clark award, the Nero Wolfe Award, and was awarded the 2003 Hammett Prize. Her novels have been translated into ten languages. She lives in New York s Hudson Valley. Visit her at carolgoodman.com."
Praise For…
---
Praise for BLYTHEWOOD by Carol Goodman:   "A beautifully evocative tale perfect for fans of Libba Bray and Tiffany Trent. First in a trilogy, Goodman's story is intriguing, romantic, eerie, and adventurous...a multifaceted and mature fantasy."—Publishers Weekly, starred review

"...a beautifully told fantasy, ripe with magic, forbidden love and unspeakably dark forces...a journey well worth taking." —Kirkus   "...a treat for lovers of the gothic." —Booklist
"Heavy in atmosphere with just enough romance, this novel is sure to find an appreciable following." —School Library Journal

"Carol Goodman's Blythewood is reminiscent of both Harry Potter and The Diviners, but in a way that doesn't distract from the entertaining story within."—Forever Young Adult
We appreciate your continued support!
If you would like to make a donation to help us through CLICK HERE.