Hawthorn (A Blythewood Novel #3) (Hardcover)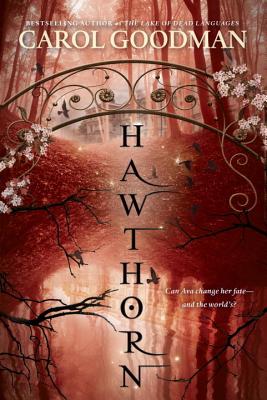 $19.79
This item is not currently available to order.
Description
---
A world on the brink of war.
 
All Avaline Hall wants is to enjoy her senior year at Blythewood Academy, the boarding school where she's been trained to defend humankind from forces of dark magic. But when Ava is shown a glimpse into the future in the enchanted Blythe Wood, she discovers that the evil Judicus van Drood is rallying nations into a war that seems destined to destroy both the human and faerie worlds. Only Ava and her allies have a chance at stopping van Drood, but how many must die in the process? And how can Ava and the boy she loves be together when everything around them is falling apart?
About the Author
---
Carol Goodman is the author of The Lake of Dead Languages, The Seduction of Water, The Drowning Tree, The Ghost Orchid, The Sonnet Lover, The Night Villa, Arcadia Falls, Blythewood, and Ravencliffe. Her works has appeared in journals such as The Greensboro Review, Literal Latte, Midwest Quarterly, New York Quarterly, and Other Voices. After graduating from Vassar College, where she majored in Latin, she taught Latin for several years in Austin, Texas. She then received an MFA in fiction from the New School University, where she now teaches writing. She has been nominated for the IMPAC award twice, the Simon & Schuster/Mary Higgins Clark Award, and the Nero Wolfe Award, and was awarded the 2003 Hammett Prize. Her novels have been translated into ten languages. She lives in New York's Hudson Valley.
Praise For…
---
Praise for HAWTHORN:

"Blythewood fans will find plenty to enjoy in the fast-paced, high-stakes series finale... A satisfying end to an epic trilogy." —Kirkus

Praise for RAVENCLIFFE:

"Rife with atmosphere, adventure and romance, this is a fantasy world worth getting lost in for a while." —Kirkus

"Recommend this supernatural melodrama to fans of Gail Carriger and Libba Bray." —Booklist

"[This] book is highly readable... especially to readers who have already devoured the works of authors like Libba Bray." —Voya

Praise for BLYTHEWOOD:

"A beautifully evocative tale perfect for fans of Libba Bray and Tiffany Trent. First in a trilogy, Goodman's story is intriguing, romantic, eerie, and adventurous...a multifaceted and mature fantasy."—Publishers Weekly, starred review

"...a beautifully told fantasy, ripe with magic, forbidden love and unspeakably dark forces...a journey well worth taking." —Kirkus

"...a treat for lovers of the gothic." —Booklist

"Heavy in atmosphere with just enough romance, this novel is sure to find an appreciable following." —School Library Journal

"Carol Goodman's Blythewood is reminiscent of both Harry Potter and The Diviners, but in a way that doesn't distract from the entertaining story within."—Forever Young Adult

BLYTHEWOOD: YALSA 2014 Best Fiction for Young Adults list