The Complete Poems of John Keats (Hardcover)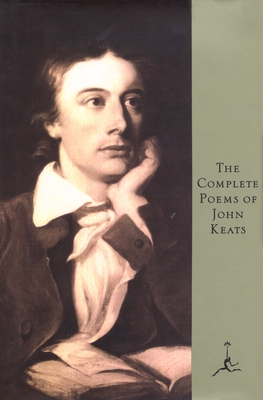 $25.30
This item is not currently available to order.
Description
---
'I think I shall be among the English Poets after my death,' John Keats soberly prophesied in 1818 as he started writing the blankverse epic Hyperion. Today he endures as the archetypal Romantic genius who explored the limits of the imagination and celebrated the pleasures of the senses but suffered a tragic early death. Edmund Wilson counted him as 'one of the half dozen greatest English writers,' and T. S. Eliot has paid tribute to the Shakespearean quality of Keats's greatness. Indeed, his work has survived better than that of any of his contemporaries the devaluation of Romantic poetry that began early in this century. This Modern Library edition contains all of Keats's magnificent verse: 'Lamia,' 'Isabella,' and 'The Eve of St. Agnes'; his sonnets and odes; the allegorical romance Endymion; and the five-act poetic tragedy Otho the Great. Presented as well are the famous posthumous and fugitive poems, including the fragmentary 'The Eve of Saint Mark' and the great 'La Belle Dame sans Merci,' perhaps the most distinguished literary ballad in the language. 'No one else in English poetry, save Shakespeare, has in expression quite the fascinating felicity of Keats, his perception of loveliness,' said Matthew Arnold. 'In the faculty of naturalistic interpretation, in what we call natural magic, he ranks with Shakespeare.'
About the Author
---
John Keats was born in October 1795, son of the manager of a livery stable in Moorfields. His father died in 1804 and his mother, of tuberculosis, in 1810. By then he had received a good education at John Clarke's Enfield private school. In 1811 he was apprenticed to a surgeon, completing his professional training at Guy's Hospital in 1816. His decision to commit himself to poetry rather than a medical career was a courageous one, based more on a challenge to himself than any actual achievement. His genius was recognized and encouraged by Charles Cowden Clarke and J. H. Reynolds, and in October 1816 he met Leigh Hunt, whose Examiner had already published Keats's first poem. Only seven months later Poems (1817) appeared. Despite the high hopes of the Hunt circle, it was a failure. By the time Endymion was published in 1818 Keats's name had been identified with Hunt's "Cockney School," and the Tory Blackwood's Magazine delivered a violent attack on Keats as a lower-class vulgarian, with no right to aspire to "poetry."But for Keats fame lay not in contemporary literary politics but with posterity. Spenser, Shakespeare, Milton, and Wordsworth were his inspiration and challenge. The extraordinary speed with which Keats matured is evident from his letters. In 1818 he had worked on the powerful epic fragment Hyperion, and in 1819 he wrote The Eve of St Agnes, La Belle Dame sans Merci, The Major Odes, Lamia, and the deeply exploratory Fall of Hyperion. Keats was already unwell when preparing the 1820 volume for the press; by the time it appeared in July he was desperately ill. He died in Rome in 1821. Keats's final volume did receive some contemporary critical recognition, but it was not until the latter part of the nineteenth century that his place in English Romanticism began to be recognized, and not until this century that it became fully recognized.