Lethal Passage: The Story of a Gun (Paperback)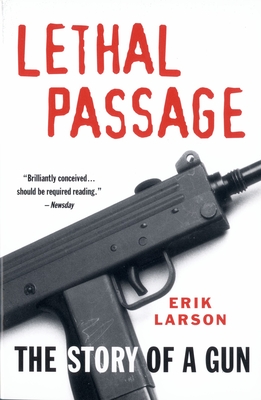 $17.00
This item is not currently available to order.
Description
---
This devastating book illuminates America's gun culture -- its manufacturers, dealers, buffs, and propagandists -- but also offers concrete solutions to our national epidemic of death by firearm. It begins with an account of a crime that is by now almost commonplace: on December 16, 1988, sixteen-year-old Nicholas Elliot walked into his Virginia high school with a Cobray M-11/9 and several hundred rounds of ammunition tucked in his backpack. By day's end, he had killed one teacher and severely wounded another.

In Lethal Passage Erik Larson shows us how a disturbed teenager was able to buy a weapon advertised as "the gun that made the eighties roar." The result is a book that can -- and should -- save lives, and that has already become an essential text in the gun-control debate.

With a new afterword.

"Touches on all aspects of the gun issue in this country. Gives great voice to that feeling...that something real must be done." --San Diego Union-Tribune

"One of the most readable anti-gun treatises in years." --Washington Post Book World
About the Author
---
ERIK LARSON is the author of five national bestsellers: Dead Wake, In the Garden of Beasts, Thunderstruck, The Devil in the White City, and Isaac's Storm, which have collectively sold more than 6.5 million copies. His magazine stories have appeared in The New Yorker, The Atlantic Monthly, Harper's and other publications and his books have been published in seventeen countries.
Praise For…
---
"Larson takes us past the absurd myths, past the numbing statistics, and into the face of reality.... Journalism at its highest."

-- Los Angeles Times Book Review



"An artful slice of the story of what may be the greatest shame we as a nation have tried... to hide from ourselves.... Fascinating." -- Chicago Sun-Times