Streets Of Laredo: A Novel (Paperback)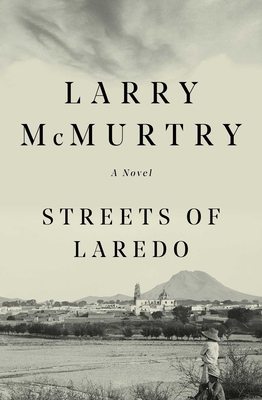 Description
---
From the Pulitzer Prize–winning author Larry McMurtry comes the final book in the Lonesome Dove tetralogy—an exhilarating tale of legend and heroism, Streets of Laredo is classic Texas and Western literature at its finest.

Captain Woodrow Call, August McCrae's old partner, is now a bounty hunter hired to track down a brutal young Mexican bandit. Riding with Call are an Eastern city slicker, a witless deputy, and one of the last members of the Hat Creek outfit, Pea Eye Parker, now married to Lorena—once Gus McCrae's sweetheart. This long chase leads them across the last wild stretches of the West into a hellhole known as Crow Town and, finally, into the vast, relentless plains of the Texas frontier.
About the Author
---
Larry McMurtry (1936–2021) was the author of twenty-nine novels, including the Pulitzer Prize–winning Lonesome Dove, three memoirs, two collections of essays, and more than thirty screenplays. He lived in Archer City, Texas.
Praise For…
---
"Streets of Laredo is a splendid addition to the literary portrait of McMurtry's native Texas and the West that he has been creating for three decades. It's also one of his most affectingly melancholy books. . . . The characters are as finely etched as any McMurtry has ever minted."--Newsweek

"Gorgeous . . . violent, funny, achingly sad, filled with heroism and regret . . . If you can put Streets of Laredo down, I'll eat my ten-gallon hat."--Cosmopolitan

"A marvelous novel in its own right and in every way a worthy successor to Lonesome Dove."--Chicago Tribune

"One of McMurtry's most powerful and moving achievements."--Los Angeles Times

"Larry McMurtry remains a genius at dialogue. The scene where the seven whores start reminiscing about the first men in their lives in wonderful."--New York Times Book Review

"Larry McMurtry is a wonderful storyteller, and with . . . Streets of Laredo. . . he has written a novel that is even better than the original--and that was one hell of a tale."--Boston Globe

"Streets of Laredo is here and all that needs to be said is this: Hallelujah. . . . McMurtry has taken us back to the glory days of Lonesome Dove. . . ."--Los Angeles Daily News
We appreciate your continued support!
If you would like to make a donation to help us through CLICK HERE.