Comanche Moon: A Novel (Paperback)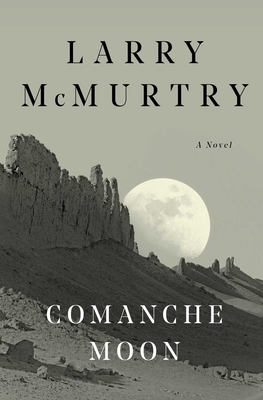 Description
---
THE NATIONAL BESTSELLER

The second book of Larry McMurtry's Lonesome Dove tetralogy, Comache Moon takes us once again into the world of the American West.
Texas Rangers August McCrae and Woodrow Call, now in their middle years, continue to deal with the ever-increasing tensions of adult life -- Gus with his great love, Clara Forsythe, and Call with Maggie Tilton, the young whore who loves him. Two proud but very different men, they enlist with the Ranger troop in pursuit of Buffalo Hump, the great Comanche war chief; Kicking Wolf, the celebrated Comanche horse thief; and a deadly Mexican bandit king with a penchant for torture. Assisting the Rangers in their wild chase is the renowned Kickapoo tracker, Famous Shoes.
Comanche Moon closes the twenty-year gap between Dead Man's Walk and Lonesome Dove, following beloved heroes Gus and Call and their comrades in arms -- Deets, Jake Spoon, and Pea Eye Parker -- in their bitter struggle to protect the advancing West frontier against the defiant Comanches, courageously determined to defend their territory and their way of life.
About the Author
---
Larry McMurtry (1936–2021) was the author of twenty-nine novels, including the Pulitzer Prize–winning Lonesome Dove, three memoirs, two collections of essays, and more than thirty screenplays. He lived in Archer City, Texas.
Praise For…
---
"McMurtry is one of our finest storytellers, and he's at his best here."--Kyle Smith, People

"Consistently entertaining."--Gene Lyons, Entertainment Weekly

"Comanche Moon has its considerable pleasures . . . a singular treat."--Michael Berry, San Francisco Chronicle

"Almost impossible to put down . . . McMurtry knows how to deploy his most suspenseful episodes for maximum effect. he treats his large cast of characters with humor and respect."--Judith Wynn, Boston Herald

"[A] fine tableau of western life, full of imaginative exploits, convincing historical background, and characters who are alive."--Kirkus Reviews

"A monumental work that has few equals in current literature."--Thomas L. Kilpatrick, Library Journal
We appreciate your continued support!
If you would like to make a donation to help us through CLICK HERE.