A Clearing In The Distance: Frederick Law Olmsted and America in the 19th Century (Paperback)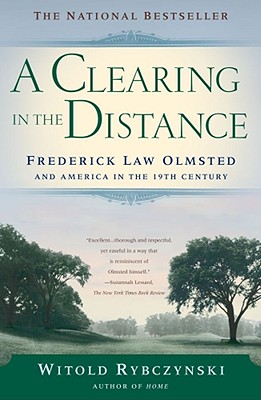 $21.99

Available in our Warehouse: Usually Ships in 3-8 Days
Description
---
In a brilliant collaboration between writer and subject, Witold Rybczynski, the bestselling author of Now I Sit Me Down, illuminates Frederick Law Olmsted's role as a major cultural figure at the epicenter of nineteenth-century American history.

We know Olmsted through the physical legacy of his stunning landscapes—among them, New York's Central Park, California's Stanford University campus, and Boston's Back Bay Fens. But Olmsted's contemporaries knew a man of even more extraordinarily diverse talents. Born in 1822, he traveled to China on a merchant ship at the age of twenty-one. He cofounded The Nation magazine and was an early voice against slavery. He managed California's largest gold mine and, during the Civil War, served as the executive secretary to the United States Sanitary Commission, the precursor of the Red Cross.

Rybczynski's passion for his subject and his understanding of Olmsted's immense complexity and accomplishments make his book a triumphant work. In A Clearing in the Distance, the story of a great nineteenth-century American becomes an intellectual adventure.
About the Author
---
Witold Rybczynski has written about architecture and urbanism for The New York Times, Time, The Atlantic, and The New Yorker. He is the author of the critically acclaimed book Home and the award-winning A Clearing in the Distance, as well as The Biography of a Building, The Mysteries of the Mall, and Now I Sit Me Down. The recipient of the National Building Museum's 2007 Vincent Scully Prize, he lives with his wife in Philadelphia, where he is emeritus professor of architecture at the University of Pennsylvania.
Praise For…
---
Suzannah Lessard The New York Times Book Review Excellent...thorough and respectful, yet easeful in a way that is reminiscent of Olmsted himself.

Stanley Weintraub The Wall Street Journal Mr. Rybczynski meshes what is close to a history of urban landscape architecture in America in the nineteenth century with a life of Olmsted. By doing so, he has produced a biography that communicates, with feeling, the ups and downs of Olmsted's career as well as of the profession he helped to invent....A book that defines and evokes Olmsted as an American original.