The Boggart (Paperback)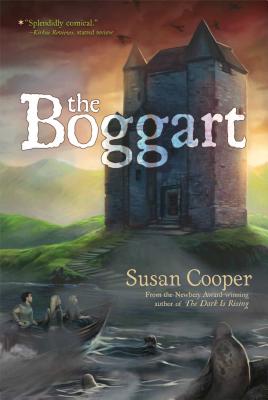 Description
---
A Boggart tries to find his way home in this twenty-fifth anniversary edition of Newbery winner Susan Cooper's classic tale of magic and mischief.

When Emily and Jess Volnik's family inherits a remote, crumbling Scottish castle, they also inherit the Boggart that lives there—an invisible, mischievous spirit who's been playing tricks on residents of Castle Keep for generations. Then the Boggart is trapped in a rolltop desk and inadvertently shipped to the Volniks' home in Toronto, where nothing will ever be the same—for the Volniks or the Boggart.

In a world that doesn't believe in magic, the Boggart's pranks wreak havoc. And even the newfound joys of peanut butter and pizza and fudge sauce eventually wear thin for the Boggart. He wants to go home—but his only hope lies in a risky and daring blend of modern technology and ancient magic.
About the Author
---
Susan Cooper is one of our foremost children's authors; her classic five-book fantasy sequence The Dark Is Rising has sold millions of copies worldwide. Her many books have won the Newbery Medal, a Newbery Honor, and the Boston Globe-Horn Book Award, and been shortlisted five times for the Carnegie Medal. She combines fantasy with history in Victory (a Washington Post Top Ten for Children novel), King of Shadows and Ghost Hawk, and her magical The Boggart and the Monster, second in a trilogy, won the Scottish Arts Council's Children's Book Award. Susan Cooper lives on a saltmarsh island in Massachusetts, and you can visit her online at TheLostLand.com.
Praise For…
---
*"The Boggart is a fascinating character, sly, ingenious, and endearing...What is most admirable is Susan Cooper's seamless fusion of the newest technology and one of the oldest forms of wild magic."

*"[T]old with Cooper's usual imagination and grace; the Boogart is entrancing--a magically witty mix of fey spirit, comfort-loving cat, old man set in his ways, and child taking gleeful delight in his own mischief--of which there is plenty, all splendidly comical."

"The intelligently thought-out clash between the ancient folkloric creature and modern science guarantees a wide audience. A lively story, compelling from first page to last, and a good bet for a read-aloud."

"Ms. Cooper's grasp of reality is as firm as her hold on the surreal...as long as writers with Susan Cooper's skill continue to publish, magic is always available."

"[T]his boisterous romp draws upon the same powerful pre-Christian magic at the heart of Cooper's well-known Dark Is Rising sequence. "
We appreciate your continued support!
If you would like to make a donation to help us through CLICK HERE.