Hard to Break: Why Our Brains Make Habits Stick (Paperback)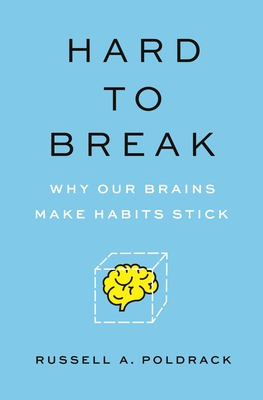 $32.99
This item is not currently available to order.
Description
---
The neuroscience of why bad habits are so hard to break--and how evidence-based strategies can help us change our behavior more effectively
We all have habits we'd like to break, but for many of us it can be nearly impossible to do so. There is a good reason for this: the brain is a habit-building machine. In
Hard to Break
, leading neuroscientist Russell Poldrack provides an engaging and authoritative account of the science of how habits are built in the brain, why they are so hard to break, and how evidence-based strategies may help us change unwanted behaviors. Along the way, we learn how cues trigger habits; why we should make rules, not decisions; how the stimuli of the modern world hijack the brain's habit machinery and lead to drug abuse and other addictions; and how neuroscience may one day enable us to hack our habits. "An authoritative guide to habit, with vivid examples and an author who really knows his stuff Russell Poldrack is the rare scientist who can push the frontier of knowledge forward and also reach back, offer his hand, and help the rest of us catch up."
--Angela Duckworth, author of Grit: The Power of Passion and Perseverance
"
Hard to Break
is a brilliant and supremely readable account of the neuroscience of behavior change, combining the latest science with practical advice, and--above all--hope in the bottom of the box.
--Daniel J. Levitin, author of Successful Aging: A Neuroscientist Explores the Power and Potential of Our Lives
About the Author
---
Russell A. Poldrack is the Albert Ray Lang Professor of Psychology at Stanford University. He is the author of The New Mind Readers: What Neuroimaging Can and Cannot Reveal about Our Thoughts (Princeton). Twitter @russpoldrack