Studies on the Origin of Harmonic Tonality (Princeton Legacy Library #1111) (Hardcover)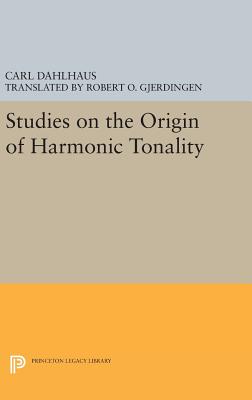 $220.05

Available in our Warehouse: Usually Ships in 3-8 Days
Description
---
Carl Dahlhaus was without doubt the premier musicologist of the postwar generation, a giant whose recent death was mourned the world over. Translated here for the first time, this fundamental work on the development of tonality shows his complete mastery of the theory of harmony. In it Dahlhaus explains the modern concepts of harmony and tonality, reviewing in the process the important theories of Rameau, Sechter, Ftis, Riemann, and Schenker. He contrasts the familiar premises of chordal composition with the lesser known precepts of intervallic composition, the basis for polyphonic music in the late Middle Ages and Renaissance. Numerous quotations from theoretical treatises document how early music was driven forward not by progressions of chords but by simple progressions of intervals.
Exactly when did composers transform intervallic composition into chordal composition? Modality into tonality? Dahlhaus provides extensive analyses of motets by Josquin, frottole by Cara and Tromboncino, and madrigals by Monteverdi to demonstrate how, and to what degree, such questions can be answered. In his bold speculations, in his magisterial summaries, in his command of eight centuries of music and writings on music, and in his deep understanding of European history and culture, Carl Dahlhaus sets a standard that will seldom be equalled. Originally published in 1990. The
Princeton Legacy Library
uses the latest print-on-demand technology to again make available previously out-of-print books from the distinguished backlist of Princeton University Press. These editions preserve the original texts of these important books while presenting them in durable paperback and hardcover editions. The goal of the Princeton Legacy Library is to vastly increase access to the rich scholarly heritage found in the thousands of books published by Princeton University Press since its founding in 1905.