The Ecology of Care: Medicine, Agriculture, Money, and the Quiet Power of Human and Microbial Communities (Paperback)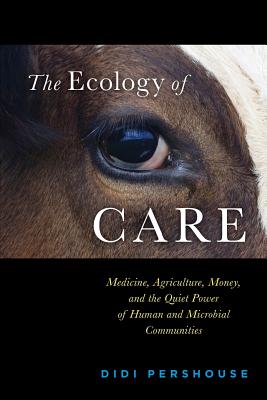 $22.94

Available in our Warehouse: Usually Ships in 3-8 Days
Description
---
What can Cuban doctors, innovative ranchers in Saskatchewan, and the microbiome teach us about how to care for people and the Earth at the same time?
In this richly layered book, Didi Pershouse takes us on a fast-moving, sharp-witted journey through her own life: from growing up with the neurosurgeon who accidentally discovered the seat of memory in the brain, to working in a smoke-filled office at New York magazine, to her career as an innovative acupuncturist in Vermont, and on to a passion for close-knit communities, grazing cows, and soil restoration as solutions to much of what ails us. Along the way, she unfolds a surprising new take on the story of our time: how the germ theory of disease joined with a profit-based economy, and unwittingly led to a "sterilization" of medicine, agriculture, and even our social lives. This 150-year detour has brought about the near destruction of our climate as well as a great forgetting of the power of connection. By documenting a scientific understanding of the intelligence of the whole, Pershouse nudges us awake with a hopeful view and shows us how to reclaim the rich, "fertile" lives we are meant for.
About the Author
---
ABOUT THE AUTHOR: Didi Pershouse is the founder of the Center for Sustainable Medicine, where she developed a model for systems-based ecological medicine that restores health to individuals as well as the social and natural communities around them. Over the past 22 years, her health-care practice has expanded in its scope from treating individual patients to treating whole systems. In addition to raising two sons and seeing patients in Thetford Center, Vermont, she also travels and teaches around the continent with the Soil Carbon Coalition. She teaches about the interrelationships between healthy soils, shifting weather patterns, economic forces, and human health; trains community leaders in self-care and peer support; develops curricula about biological work and landscape function; and works with farmers and ranchers to restore the living systems that run the underground carbon and water cycles that make life on this planet possible. ABOUT THE ILLUSTRATOR Peter Donovan is the founder of the Soil Carbon Coalition. He has herded sheep, played piano for ballet classes, and worked on cattle ranches, but he now spends most of his time touring North America in his school-bus home, facilitating workshops, and measuring changes in soil carbon and water cycles. The drawings in this book are from his travels. He has reported widely on innovative land managers; most of his articles can be found at managingwholes.com.