The Complete Guide to Buying at Garage, Yard, and Estate Sales and Selling Online for Fun and Profit (Paperback)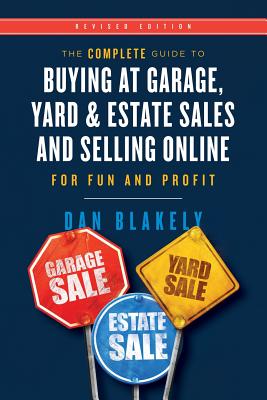 $12.95

Available in our Warehouse: Usually Ships in 3-8 Days
Description
---
Where else can you start a new business or hobby with $100.00 in your pocket and a full tank of gas in your car? For years garage sale trainer Dan Blakely has been helping people easily supplement their income by going to Garage sales This is not a small book, it is complete and covers a very wide range of profit opportunities. With so much demand for his services he has finally agreed to write a book to expand his expertise to whomever wants to learn. If you have wondered how some people make a lot of money on eBay and Amazon then this is definitely the one you want, it is not a small quick how to book, rather, this is a very complete and detailed book but one written in a simple and to the point manner. You will learn just about EVERYTHING from A to Z to easily start and maintain a money-making business and/or hobby. Just look inside and check out the table of contents and you will agree, this IS the COMPLETE guide There are a lot of books on the market about how to have a garage sale and yes some about making money buying at them but many of these books can be limited in their information. There is just SO MUCH opportunity out there; Antiques, vintage stuff from the 70's and 80's, CD's, Book's and the list goes on. However, to succeed at this, having the right systems, information and tools is critically important.
This book provides valuable insights into successfully mastering the world of these sales. First, how to find and negotiate the best price for objects of value and, second, how to easily resell those same objects on eBay and Amazon for a nice profit. Beginning with a section titled "How to Use This Book," the author instructs his readers on how to maximize their efforts, how to discern what is worth buying (and, as importantly, what isn't). He also discusses many other very valuable perks to attending garage, yard and estate sales like finding high end clothes or even just general household items for your own or use which translates into a huge savings of money. This is also a great opportunity to start your own collection of antiques and collectibles which is both fun and an unbelievably good investment.
Once the buyer has secured his or her bargains, the author walks the reader through an easy step-by-step system to resell those items for a great profit without spending a whole lot of time. Dan Blakely also helps his readers find their own personal niche. Using individual knowledge, the reader already possesses, to dominate those sales. For instance, let's say you know quite a bit about clothing, designer and vintage for example, well there are literally oodles of clothing to be had for next to nothing. Another niche that anyone can easily learn is how to buy books for next to nothing and re-sell them on Amazon. This alone can be a great profit center to supplement your income.
This guide brims with nuts-and-bolts advice. For example, there is a chapter on how to organize your self without taking up too much room in your home and the middle of the book is devoted to instructing the reader on finding value in common items, such as DVDs, CDs.
Dive into this can't-miss program for a steady second income or a fun new money-making hobby Whatever you choose, buying at garage sales is a great opportunity
About the Author
---
Garage sale veteran professional Dan Blakely has been attending garage, yard, and estate sales since he was just a kid! Over the past two decades however, he has applied the knowledge he's picked up along the way into running a profitable online business/hobby in his spare time. His secrets and systems are now available to anyone for the simple price of a book.