My Home (My World in 100 Words #4) (Board book)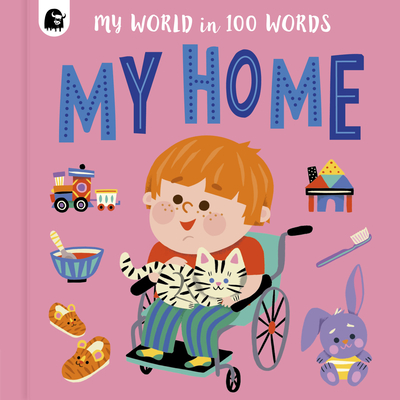 Description
---
Bedroom, window, cooker, sofa, garden, family, playing, bedtime… introduce your little ones to the words they'll encounter around them at home, with cute characters, bright colors, and playful scenes.

My Home in 100 words introduces a range of different scenes and objects, from eating in the kitchen to bubbles in the bathroom, and windows to armchairs. Along with the home items, each scene contains one feeling word and one action word to spot, such as happy and hiding—color-coded circles point them out. With a bright cover that adds visual and tactile interest, this fun book inspires a deeper knowledge of the world, introduces language skills, and supports emotional intelligence.

An original, contemporary take on teaching first words, the My World in 100 Words series of board books helps children ages 0–3 boost vocabulary, engage with the world around them, and become familiar with specific subjects. With bright, playful illustrations from Marijke Buurlage, each book explores a different theme, including the garden and the seaside. With 10 words per page and variation between full scenes and visual lists, there's plenty for children to look at and enjoy.

Other titles in the My World in 100 wordsseries: Halloween, Kindergarten, Christmas. 
 
About the Author
---
Marijke Buurlage is an illustrator who lives in the north of the Netherlands. She graduated from Minerva Academy Groningen (2009-2013) and has been working as a freelance illustrator ever since. She mostly works on editorial illustrations for magazines, children's books, book covers, posters, apps and e-books, but she also loves working on self-initiated side-projects. Her work is vibrant, light-hearted, playful, and feminine and her two most favorite things to draw are animals and botanicals.
Happy Yak is a loveable new imprint for 0-7 year olds, perfect for small children with big personalities. Offering pre-school, picture books, and illustrated non-fiction, our purpose is to publish playful books that make you smile. All of our books are bright and accessible, with eye-catching design, contemporary illustration, and engaging, entertaining text.