30-Second Biochemistry: The 50 vital processes in and around living organisms, each explained in half a minute (30 Second) (Hardcover)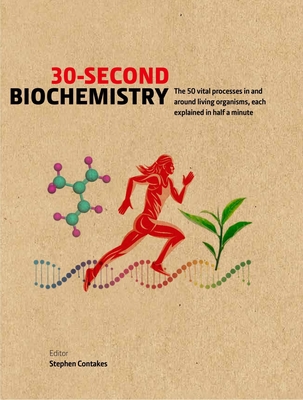 $24.20
This item is not currently available to order.
Description
---
The successful 30-Second series tackles biochemistry, the science of the chemical processes which underpin the workings of all organic life.

30-Second Biochemistry takes 50 of the most significant ideas relating to the study of the chemical processes connected to living organisms, simplifying each concept using just 300 words and one picture.

By using chemical procedures to tackle biological challenges, biochemistry reveals the behaviour of complex molecules and how they combine to form the building blocks of life.

Through this book you will gain a clear understanding of a fascinating area of science, embarking on a journey that reveals how new life is created, the path molecules take to develop from microscopic cells into complete organisms and how energy is harvested and harnessed to help organisms function efficiently.

Have all the key terms of this fascinating science explained in simple, bitesize chunks of information-rich text, as well as meeting the key figures who have helped make biochemistry what it is today.
About the Author
---
Stephen Contakes is Associate Professor of Chemistry at Westmont College in Santa Barbara, California, where he teaches courses in inorganic, analytic and physical chemistry. With a background in organometallic and bioinorganic chemistry, his research interests involve the preparation of redox-active hydrogen bonded assemblies and photoactive nanoparticle catalysts for use in pollutant remediation.