A History of Love and Hate in 21 Statues (Paperback)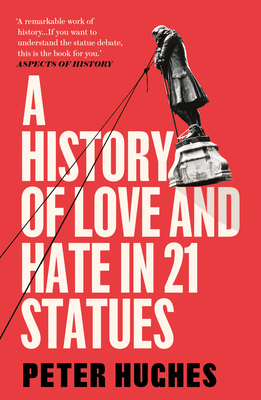 $16.00
This item is not currently available to order.
Description
---
From antiquity to the present day, this book offers a fascinating insight into the histories, movements and conflicts which have come to shape our world, viewed through the stories of the destruction of 21 statues. 

Confederate soldiers hacked to pieces. A British slave trader dumped in the river. An Aboriginal warrior twice beheaded. A Chinese philosopher consumed by fire. A Greek goddess left to rot in the desert…
 
Statues stand as markers of collective memory connecting us to a shared sense of belonging.  When societies fracture into warring tribes, we convince ourselves that the past is irredeemably evil. So, we tear down our statues. But what begins with the destruction of statues, ends with the killing of people.
 
This remarkable book is a compelling history of love and hate spanning every continent, religion and era, told through the destruction of 21 statues. Peter Hughes' original approach, blending philosophy, psychology and history, explores how these symbols of our identity give us more than an understanding of our past. In the wars that rage around them, they may also hold the key to our future.

The 21 statues are Hatshepsut (Ancient Egypt), Nero (Suffolk, UK), Athena (Syria), Buddhas of Bamiyan (Afghanistan), Hecate (Constantinople), Our Lady of Caversham (near Reading, UK), Huitzilopochtli (Mexico), Confucius (China), Louis XV (France), Mendelssohn (Germany), The Confederate Monument (US), Sir John A. Macdonald (Canada), Christopher Columbus (Venezuela), Edward Colston (Bristol, UK), Cecil Rhodes (South Africa), George Washington (US), Stalin (Hungary), Yagan (Australia), Saddam Hussein (Iraq), B. R. Ambedkar (India) and Frederick Douglass (US).

The book includes a black and white illustration of each statue and an illustrated map showing their geographical location.

A History of Love and Hate in 21 Statues is a profound and necessary meditation on identity which resonates powerfully today as statues tumble around the world.
About the Author
---
Dr. Peter Hughes is a philosopher and psychologist with expertise in how individuals succumb to the madness of crowds. He has a PhD in philosophy and is a member of the British Psychological Society. An experienced broadcaster, he has worked with extremes of human behaviour and his combination of academic expertise and real-world experience give him a unique perspective on the statue wars.
DR. PETER HUGHES is a philosopher and a member of the British Psychological Society. An expert in extremes of human behavior, he has featured on the BBC, ABC Australia and numerous documentaries. He writes for publications including The Huffington Post, The Spectator, Quillette, Perspective Magazine and The New Statesman.
Praise For…
---
'Fascinating analysis. A great read.' Julia Hartley-Brewer, TalkRADIO TV Breakfast Show

"An innovative and compelling examination of the fundamental DNA of humanity - our talent for creation and destruction."
ROBIN MORGAN, award-winning journalist former editor of The Sunday Times Magazine

"This book considers why statues, and their removal, continue to provoke strong emotions. It also tells us the stories of 21 acts of statue destruction, why they took place, and what they tell us about our view of the past."
BBC HISTORY MAGAZINE

'An enjoyable survey of historical antagonism, and a welcome alternative perspective on a flashpoint in the culture wars'
Dominic Selwood, TLS
 

'An enjoyable survey of historical antagonism, and a welcome alternative perspective on a lashpoint in the culture wars.' THE TIMES LITERARY SUPPLEMENT

'A remarkable work of history...If you want to understand the statue debate, this is the book for you.' ASPECTS OF HISTORY

'An innovative and compelling examination of the fundamental DNA of humanity - our talent for creation and destruction.'
ROBIN MORGAN, award-winning journalist former editor of the Sunday Times Magazine
  'A remarkable work of history from a psychologist and philosopher – if you want to understand the statue debate, this is the book for you. Beginning with Hatshepsut in ancient Egypt, through antiquity and the medieval period featuring Nero, Athena and Huitzilopochtli of the Aztecs, the majority deal with destruction from the 20th and 21st centuries. But each essay is far more than an account of their removal. There is gold dust to be found within each, such as Isabel Wilkerson's experience with a Trump supporting plumber (that had me optimistic for the future); and the analysis of Conrad's Heart of Darkness and the Belgian colonial behaviour behind it is spellbinding. Towards the end Hughes deals with the big-guns: Colston, Cecil Rhodes, Stalin and Saddam Hussein and each is handled brilliantly as other histories are interweaved to make the reader see the implications of each demolition. If you're looking to really understand the statue question, this is the book for you.' OLIVER WEBB-CARTER, Aspects of History

'Fascinating analysis. A great read.'Julia Hartley-Brewer, TalkRADIO TV Breakfast Show

'This book considers why statues, and their removal, continue to provoke strong emotions. It also tells us the stories of 21 acts of statue destruction, why they took place, and what they tell us about our view of the past.'
BBC HISTORY MAGAZINE