The Silver Spoon New Edition (Hardcover)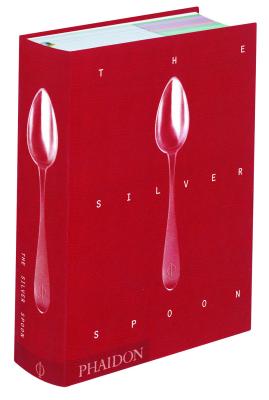 Description
---
"
"The quintessential cookbook." – USA Today
The Silver Spoon, the most influential and bestselling Italian cookbook of the last 50 years, is now available in a new updated and revised edition. This bible of authentic Italian home cooking features over 2,000 revised recipes and is illustrated with 400 brand new, full‐color photographs. A comprehensive and lively book, its uniquely stylish and user‐friendly format makes it accessible and a pleasure to read. The new updated edition features new introductory material covering such topics as how to compose a traditional Italian meal, typical food traditions of the different regions, and how to set an Italian table. It also contains a new section of menus by celebrity chefs cooking traditional Italian food including Mario Batali, Lidia Bastianich, Tony Mantuano, and Rich Torrisi and Mario Carbone.
Il Cucchiaio d'Argento was originally published in Italy in 1950 by the famous Italian design and architectural magazine Domus, and became an instant classic. A select group of cooking experts were commissioned to collect hundreds of traditional Italian home cooking recipes and make them available for the first time to a wider modern audience. In the process, they updated ingredients, quantities and methods to suit contemporary tastes and customs, at the same time preserving the memory of ancient recipes for future generations.
Divided into eleven color‐coded chapters by course, The Silver Spoon is a feat of design as well as content. Chapters include: Sauces, Marinades and Flavored Butters, Antipasti, Appetizers and Pizzas, First Courses, Eggs, Vegetles, Fish and Shellfish, Meat, Poultry, Game, Cheese, and Desserts. It covers everything from coveted authentic sauces and marinades to irresistible dishes such as Penne Rigate with Artichokes, Ricotta and Spinach Gnocchi, Tuscan Minestrone, Meatballs in Brandy, Bresaola with Corn Salad, Pizza Napoletana, Fried Mozzarella Sandwiches and Carpaccio Cipriani.
"
Praise For…
---
"A seriously comprehensive guide that shows that Italian food is about for more than just pasta and pizza... One for serious Italophiles."—Gordon Ramsey, The Times
"The most successful Italian cookbook of all time."—The Financial Times
"It?s not so much one more Italian cookbook as the one-volume encyclopedia of Italian home cookery. Lavish illustrations, a helpful glossary of cooking terms and a translation geared to the intelligent layout make The Silver Spoon both pleasant browsing and an accessible manual in the kitchen."—The Wall Street Journal
"Big and bountiful, it?s a welcoming jumble of recipes... And by the looks of it, it may give cookbooks by American celebrity chefs a run for their money."—The New York Times Magazine
"A joy to cook from... May well prove to be the only Italian cookery you?ll ever need."—Henrietta Green, Daily Mail
"It's hard to imagine a more comprehensive resource of Italian classics."—Fine Cooking Magazine
"Accessible and a pleasure to read... When it comes to Italian home cooking, The Silver Spoon serves it up."—Costco Connection
"Italy's version of The Joy of Cooking... Presents lucid recipes for every dish a lover of Italian food could wish for - more than 2,000 of them."—Bon Appetit
"Without a doubt, this season's one indispensable cookbook is The Silver Spoon... Magnificent."—This Week
"A kitchen essential for anyone with even a passing interest in Italian food... If you're stuck for a Christmas gift idea for the foodie in your life, this is just the thing."—Sunday Business Post Ireland
"The Silver Spoon is as delicious to look at as the recipes inside."—Scotland on Sunday Christmas Guide
"A brilliant source of inspiration."—Delicious
"Time-honoured recipes that make this a one-stop reference book for traditional Italian cooking."—House and Garden
"The ultimate kitchen companion."—Mindfood Magazine
"Strongly recommended for cooks of all stages, culinary school students, and food lovers."—celebrity-books.blogspot.com
"The most exhaustive Italian cookbook in recent memory, this volume offers something for every cook, regardless of their skill level, and deserves to be a fixture in American kitchens."—Publishers Weekly
"We love The Silver Spoon cookbook from the 1950s ? a staple in many Italian food lovers? kitchen."—FamilyCirlcle
"This book is considered something of an authority on Italian cookery and is the bestselling cookery book of all time in its native land... For lovers of Italian cuisine it contains so much to inspire and delight. Well deserving of a coveted space on the kitchen shelf."—Woman's Way (Ireland)
"There's plenty to say about Italian food but very little that hasn't been explored in this vast tome. In essence it defines the ineffable conviviality that gives Italian fare its pizzazz." —Monocle
"...This is a bible for serious Italian chefs, but it's accessible for beginners, too. If ever you're at a loss for what Italian dish to cook, have this book at the ready for endless inspiration."—Forbes Online