1 Corinthians: Godly Solutions for Church Problems (MacArthur Bible Studies) (Paperback)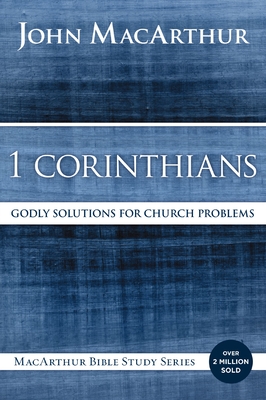 $12.99

Available in our Warehouse: Usually Ships in 3-8 Days
Description
---
As the gospel spreads to the far corners of the earth, the apostle Paul is under mounting pressure to provide direction to maturing churches before they go astray. It's with this urgency that Paul covers many topics that are especially relevant in today's society.
Pastor John MacArthur will take you through the first letter to the church in Corinth to show how this church in particular allowed their worldliness to affect the church's priority of spreading the gospel--and how Paul's response gives Christians black-and-white boundaries in a gray world.
As Paul explains doctrinal truths directly relating to sin and righteousness, he outlines a foundation for godly behavior. Paul's letter is a valuable tool of correction and encouragement for believers--then and now--to be alert, firm, mature, strong, and loving.
--ABOUT THE SERIES--
The MacArthur Bible Study series is designed to help you study the Word of God with guidance from widely respected pastor and author John MacArthur. Each guide provides intriguing examinations of the whole of Scripture by examining its parts and incorporates:
Extensive, but straight-forward commentary on the text.
Detailed observations on overriding themes, timelines, history, and context.
Word and phrase studies to help you unlock the broader meaning and apply it to your life.
Probing, interactive questions with plenty of space to write down your response and thoughts.
About the Author
---
John MacArthur is the pastor-teacher of Grace Community Church in Sun Valley, California, president of the Master's College and Seminary, and featured teacher with the Grace to You media ministry. In more than four decades of ministry, John has written dozens of bestselling books, including The MacArthur Study Bible, The Gospel According to Jesus, and Slave. He lives in Los Angeles.