James: Guidelines for a Happy Christian Life (MacArthur Bible Studies) (Paperback)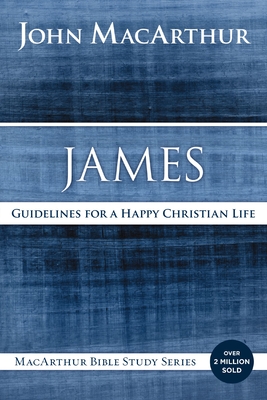 $12.99

Available in our Warehouse: Usually Ships in 3-8 Days
Description
---
The apostle James, the oldest half-brother of Jesus, was a key leader in the Jerusalem church. During the early days of the young church, the Jewish believers had been scattered by persecution. Out of compassion, James wrote this epistle to confront them and motivate them to test the quality and consistency of their faith.
Pastor John MacArthur will take you through the book of James, passage by passage, so that you can better understand this short but powerful book and how James gives us practical guidance on issues that also measure our true faith and our spiritual fruitfulness. James calls all believers--then and now--to live a life that demonstrates saving faith marked by godly behavior.
--ABOUT THE SERIES--
The MacArthur Bible Study series is designed to help you study the Word of God with guidance from widely respected pastor and author John MacArthur. Each guide provides intriguing examinations of the whole of Scripture by examining its parts and incorporates:
Extensive, but straight-forward commentary on the text.
Detailed observations on overriding themes, timelines, history, and context.
Word and phrase studies to help you unlock the broader meaning and apply it to your life.
Probing, interactive questions with plenty of space to write down your response and thoughts.