Blood Standard (An Isaiah Coleridge Novel #1) (Hardcover)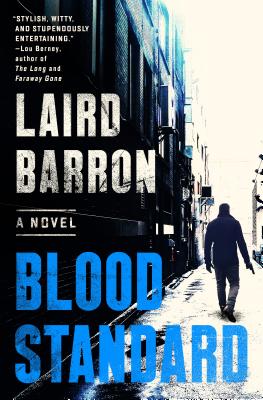 Email us for price & availability: info@oblongbooks.com
Other Books in Series
This is book number 1 in the An Isaiah Coleridge Novel series.
Description
---
A novel set in the underbelly of upstate New York that's as hardboiled and punchy as a swift right hook to the jaw, a classic noir for fans of James Ellroy and John D. Macdonald.

Isaiah Coleridge is a mob enforcer in Alaska--he's tough, seen a lot, and dished out more. But when he forcibly ends the money-making scheme of a made man, he gets in the kind of trouble that can lead to a bullet behind the ear.

Saved by the grace of his boss and exiled to upstate New York, Isaiah begins a new life, a quiet life without gunshots or explosions. Except a teenage girl disappears, and Isaiah isn't one to let that slip by. And delving into the underworld to track this missing girl will get him exactly the kind of notice he was warned to avoid.

At turns brutally shocking and darkly funny, heartbreaking and cautiously hopeful, Blood Standard is both a high-tension crime novel and the story of a man's second chance--the parts of his past he will never escape, and the parts that will shape his future.
About the Author
---
Laird Barron was born in Alaska, where he raised huskies and worked in the construction and fishing industries for much of his youth. He is the author of several short-story collections and two novels, and his work has also appeared in many magazines and anthologies. A multiple Locus, World Fantasy, and Bram Stoker Award nominee, he is also a three-time winner of the Shirley Jackson Award. Barron lives in Kingston, NY.
Praise For…
---
Praise for Blood Standard and Laird Barron

"Laird Barron has so much fun with this character, who admires Humphrey Bogart's take on Sam Spade and tosses off one-liners that bring the spirit of Dashiell Hammett into the 21st century."—Raleigh News & Observer

"The action is fast-paced, the characters well drawn, the settings vivid and the hardboiled prose quirky in the manner of a writer who cut his teeth on horror and poetry."—Associated Press

"Singular and excellent...Blood Standard sets a standard that will be hard to match."—criminalelement.com

"Massive, scarred Isaiah is a thug's thug, but he's also a well-read student of mythology. He's indifferent to stab wounds and generates righteous mayhem in his quest. Fans of violent crime fiction will love this one and will be eager to hear more from Isaiah."—Booklist (starred review)

"Laird Barron's Blood Standard is stylish, witty, and stupendously entertaining, and it gives us a main character—Isaiah Coleridge, head-cracking classics-quoting half-Maori ex(ish)-gangster—who is entirely unforgettable."—Lou Berney, Edgar Award-winning author of The Long and Faraway Gone

"Rendered in icy strokes of prose, Laird Barron's Blood Standard is a remarkably self-assured crime novel—at once explosive and intimate, with a tightly wound plot and wonderfully realized characters. And then there's Barron's hero, Isaiah Coleridge. He's got a dead dog named Achilles and bits of Beowulf on his breath and in his teeth. Needless to say, there's not too many like him."—Michael Harvey, author of Brighton and The Chicago Way
We appreciate your continued support!
If you would like to make a donation to help us through CLICK HERE.