Deacon King Kong: A Novel (Hardcover)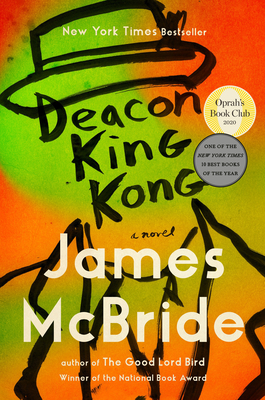 March 2020 Indie Next List
---
"Deacon King Kong is a quintessential New York story. Set in the Brooklyn projects in 1969, a perpetually inebriated deacon called Sportcoat aims a gun at the neighborhood's main drug dealer in the public plaza and pulls the trigger. Incredibly well-constructed and hilarious at times, McBride's story entwines a number of storylines that are kickstarted by this central event. The local Italian gangster, the veteran cop, the meddling churchgoers, and the drug pushers all have their own agendas, hopes, and dreams that are affected. And though Sportcoat doesn't remember his actions and is always under the influence of gut-rot moonshine, I couldn't help but root for him as I was reading this. His delightful ineptitude and absence of clarity made this book impossible for me to put down. If you've never read McBride before, this is a great introduction."
— Stuart McCommon, Novel., Memphis, TN
Description
---
The New York Times bestseller

"Cracking...Terrific...Deeply felt, beautifully written, and profoundly humane." -The New York Times Book Review cover

"Hilarious...A rich and vivid multicultural history." -Time Magazine

From James McBride, author of the National Book Award-winning The Good Lord Bird and the bestselling modern classic The Color of Water, one of the most anticipated novels of the year: a wise and witty tale about what happens to the witnesses of a shooting.

In September 1969, a fumbling, cranky old church deacon known as Sportcoat shuffles into the courtyard of the Cause Houses housing project in south Brooklyn, pulls a .38 from his pocket, and in front of everybody shoots the project's drug dealer at point-blank range.

The reasons for this desperate burst of violence and the consequences that spring from it lie at the heart of Deacon King Kong, James McBride's funny, moving novel and his first since his National Book Award-winning The Good Lord Bird. In Deacon King Kong, McBride brings to vivid life the people affected by the shooting: the victim, the African-American and Latinx residents who witnessed it, the white neighbors, the local cops assigned to investigate, the members of the Five Ends Baptist Church where Sportcoat was deacon, the neighborhood's Italian mobsters, and Sportcoat himself.

As the story deepens, it becomes clear that the lives of the characters--caught in the tumultuous swirl of 1960s New York--overlap in unexpected ways. When the truth does emerge, McBride shows us that not all secrets are meant to be hidden, that the best way to grow is to face change without fear, and that the seeds of love lie in hope and compassion.

Bringing to these pages both his masterly storytelling skills and his abiding faith in humanity, James McBride has written a novel every bit as involving as The Good Lord Bird and as emotionally honest as The Color of Water. Told with insight and wit, Deacon King Kong demonstrates that love and faith live in all of us.
About the Author
---
James McBride is an accomplished musician and the author of the National Book Award–winning novel The Good Lord Bird, the bestselling American classic The Color of Water, the novels Song Yet Sung and Miracle at St. Anna, the story collection Five-Carat Soul, and Kill 'Em and Leave, a biography of James Brown. The recipient of a National Humanities Medal, McBride is also a Distinguished Writer in Residence at New York University.
Praise For…
---
Praise for DEACON KING KONG:
 
"Deacon King Kong is deeply felt, beautifully written and profoundly humane; McBride's ability to inhabit his characters' foibled, all-too-human interiority helps transform a fine book into a great one. He has written beautifully before, in his beloved memoir, The Color of Water, and, with terrifying irreverence, in his National Book Award-winning novel, The Good Lord Bird. But Deacon King Kong reads like he's tapped a whole fresh seam of inspiration and verve. It's clear that he's having a blast, and his spirit of funning irreverence supercharges the entire narrative like home-brewed black lightning." —The New York Times Book Review
 
"A hilarious, pitch-perfect comedy set in the Brooklyn projects of the late 1960s. This alone may qualify it as one of the year's best novels. However, McBride — the author of the National Book Award-winning The Good Lord Bird — has constructed a story with a deeper meaning for those who choose to read beyond the plot, one that makes the work funnier, sweeter and more profound." —The Washington Post 
 
"The sheer volume of invention in Deacon King Kong—on the level of both character (the first chapter alone introduces twenty individuals by name) and language—commands awe. Reading it is like watching a movie in which one's occasional impulse to ask questions is pleasantly swamped by the need to keep up with the pace of events ... And the sentences! The prose radiates a kind of chain-reaction energy." —The New Yorker
 
"Readers of The Good Lord Bird will recognize shades of McBride's hilarious dialogue and an attention to detail that reveal a complex local history. Capturing humanity through satire and witticisms, McBride draws everyday heroes ... McBride's novel is a rich and vivid multicultural history. But he also depicts the vulnerability of men who show most of the world only their gruff exteriors, rendered with rare and memorable tenderness." —TIME
 
"With many plot twists and spellbinding scenes, Deacon King Kong becomes a partly comic but deeply poignant rumination on race and love…The narrative flows seamlessly from buoyant and comical black jive to somber, pitch-perfect descriptives of the histories and hard lives of those doing the talking… With Deacon King Kong, fiction written in prose that carries the pulsing force of life, [McBride] adds another distinguished entry to his wide-ranging repertoire." —AP
 
"A witty and hopeful tale." —Huffington Post

"McBride returns with an improbably hilarious tapestry of late '60s Brooklyn, and an eclectic group of individuals that bore witness to a fatal shooting." —Entertainment Weekly

"With a Dickensian wealth of quirky characters, a sardonic but humane sense of humor reminiscent of Mark Twain, and cartoonish action scenes straight out of Pynchon, McBride creates a lived-in world where everybody knows everybody's business. This generous, achingly funny novel will delight and move readers." —Publishers Weekly, STARRED REVIEW

"Much is unpacked by the time the book reaches its lovely and heartfelt climax, as McBride shows what can happen when people set aside their differences. Highly recommended." —Library Journal, STARRED REVIEW

"McBride has a flair for fashioning comedy whose buoyant outrageousness barely conceals both a steely command of big and small narrative elements and a river-deep supply of humane intelligence. An exuberant comic opera set to the music of life." —Kirkus Reviews, STARRED REVIEW

"While historical fiction fans will appreciate the richly detailed approach to Brooklyn's grittiness, McBride's neighborhood saga ultimately sets a new standard for multidimensional fiction about people of color." —Booklist, STARRED REVIEW
 
"Deacon King Kong finds a literary master at work…a deeply meditative novel that leaves the reader swept up in a wave of concurrent and conflicting emotions. Deacon King Kong reaffirms James McBride's position among the greatest American storytellers of our time." —Bookpage
 
"McBride populates the Cause [Houses] with characters who persevere with love and compassion for each other, unwavering faith in God and community, and lots of humor. Big-hearted and sprawling, Deacon King Kong cements McBride as a master storyteller." —Shelf Awareness
 
"McBride is an acknowledged master of high-resolution historical fiction, peppered with wit and insight." —Goodreads
Coverage from NPR
We appreciate your continued support!
If you would like to make a donation to help us through CLICK HERE.