Run, Hide, Repeat: A Memoir of a Fugitive Childhood (Paperback)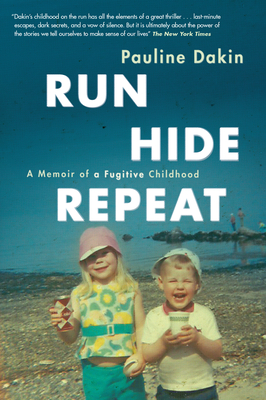 $16.00
This item is not currently available to order.
Description
---
Winner of the 2018 Edna Staebler Award for Creative Non-Fiction

Longlisted for British Columbia's National Award for Canadian Non-Fiction 2018

Shortlisted for the 2018 Evelyn Richardson Non-fiction Award

Shortlisted for the 2018 Atlantic Book Awards - Margaret and John Savage First Book Award

Shortlisted for the 2018 Frank Hegyi Award for Emerging Authors


An unforgettable family tale of deception and betrayal, love and forgiveness

Pauline Dakin spent her childhood on the run. Without warning, her mother twice uprooted her and her brother, moving thousands of miles away from family and friends. Disturbing events interrupt their outwardly normal life: break-ins, car thefts, even physical attacks on a family friend. Many years later, her mother finally revealed they'd been running from the Mafia and were receiving protection from a covert anti-organized crime task force.
  But the truth was even more bizarre. Gradually, Dakin's fears give way to suspicion. She puts her journalistic training to work and discovers that the Mafia threat was actually an elaborate web of lies.  As she revisits her past, Dakin uncovers the human capacity for betrayal and deception, and the power of love to forgive.
    Run, Hide, Repeat is a memoir of a childhood steeped in unexplained fear and menace. Gripping and suspenseful, it moves from Dakin's uneasy acceptance of her family's dire situation to bewildered anger. As compelling and twisted as a thriller, Run Hide Repeat is an unforgettable portrait of a family under threat, and the resilience of family bonds.
About the Author
---
PAULINE DAKIN is an assistant professor at the University of King's College School of Journalism in Halifax. A journalist who has worked in radio, television, and print, she was also a senior producer for CBC Nova Scotia, host of CBC Radio's Atlantic Voice, and a long-time health reporter for CBC National News. She has received many national journalism awards, including a citation of merit from The Michener Awards. She lives in Halifax.
Praise For…
---
One of The Globe and Mail's 100 Best Books of 2017

"Dakin's childhood on the run has all the elements of a great thriller. There are last-minute cross-country escapes, a web of dark family secrets, and a desperately agreed-to vow of silence. But it is ultimately a fable about the power of the stories we tell ourselves to make sense of our lives . . ."
—The New York Times

"What happens when 'Fake News' takes over your family? This harrowing true story reads like a psychological thriller—I was haunted by it." —Plum Johnson, author of They Left Us Everything

"From a childhood marked by secrets and sudden moves to an adulthood where truth—and lies—of the past are laid bare, Run, Hide, Repeat is a fascinating story of family, deception, and forgiveness." —Sonja Larsen, author of Red Star Tattoo

"Mystery rolls in like the tide in this story — without fail, over and over." –Chatelaine

"This twisted page-turner brings the truth to the forefront, while Dakin tries to master the art of forgiveness." —Canadian Living

"This is a well-paced and engrossing memoir where Dakin's skills as long-time CBC health reporter uncover one final, startling revelation."—The Globe and Mail   

"Run, Hide, Repeat is part crime thriller, part scientific analysis of delusional disorder." –Calgary Herald