Juggling: From Start to Star: From Start to Star (Paperback)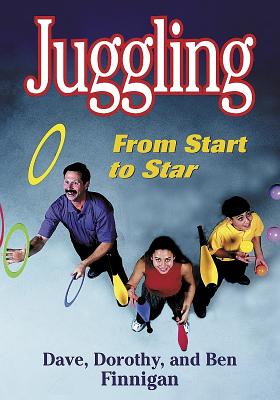 $19.95
This item is not currently available to order.
Description
---

Have you ever wanted to be one of those people who could juggle--but never thought you could learn how? Well, now you can with Juggling, the new book by the famous Finnigan family of Dave, Dorothy, and Ben. In this fascinating book the family of jugglers offers you their techniques, secrets, and passion for developing amazing juggling ability.
The most fun and effective instructional guidebook ever published on the topic, Juggling is for anyone. From newcomers to the more advanced, children to adult, anyone interested in juggling will learn how by reading this book. It includes more than 250 photos illustrating proper techniques for all types of apparatus, individual and partner juggling, and fun-filled juggling games.
Juggling shares with you the extensive juggling experience of this memorable family of jugglers, who have traveled worldwide teaching juggling to over more than million people. Now with the help of Juggling you can learn all the tricks of the trade in the comfort of your own home, and soon you'll be entertaining friends and family with your amazing new talent.
About the Author
---
Dave, Dorothy, and Ben are father, daughter, and son in the famous juggling Finnigan family. All are amazingly talented at juggling, and all have performed their craft before audiences throughout the country. Dave Finnigan is the former education director of the International Jugglers Association (IJA) and was the first-ever recipient of the IJA's Excellence in Education Award. He is also the author of The Complete Juggler and The Joy of Juggling, and a prolific showman and highly respected instructor. Since 1976 he has visited more than 2,000 schools and taught more than a million people in 41 states and 12 countries to juggle. Dave is well known for incorporating a variety of teaching styles and uses those techniques to help children learn, while at the same time encouraging a positive self-image.Dorothy Finnigan, at age 16, is one of the most accomplished female jugglers in the United States. She has personally taught thousands of children and adults to juggle in her travels. She was also the winner of the Most Promising Woman Award from the IJA in 1997 and in Montreal in 2000 was the first female ever to receive a medal in the IJA junior competition.Ben Finnigan, age 12, is also an up-and-coming star in the world of juggling. Ben claims to be as good a juggle at 12 as his father was at 36, or is at 59. Although he is a member of a juggling family, Ben always reminds everyone that he is "just a regular kid" and living proof that anyone, young or old, can learn to juggle with the right instruction.