Volleyball Skills & Drills (Paperback)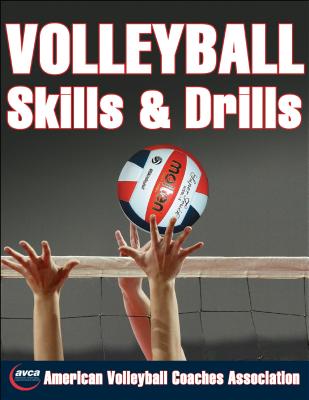 $29.65
This item is not currently available to order.
Description
---
Master volleyball's key techniques and elevate performance in all facets of the sport. Volleyball Skills & Drills teaches the fundamentals and contains the proper progressions to help players master and apply those skills on the court when it counts. Featuring 90 of the sport's best drills, this guide will maximize both the rate and quality of learning to help players and coaches get the most out of each practice session.
Developed by the American Volleyball Coaches Association, this book includes an introduction by Taras Liskevych and chapters from 10 of the game's top coaches on the topics they know best:
-Paul Arrington: Practicing
-Sean Byron: Setting
-Don Hardin: Blocking
-Jim McLaughlin: Attacking
-Marilyn Nolen: Receiving Serves
-Penn State assistants with Russ Rose: Playing Defense
-Tom Peterson: Serving
-Joan Powell: Digging
-Joe Sagula: Playing Offense
-Stephanie Schleuder: Transitioning
Volleyball Skills & Drills is both the perfect in-season coaching manual and a superb off-season player development manual. It's like attending the best volleyball clinic available on each important aspect of individual and team performance!
About the Author
---
Kinda S. Lenberg has edited 10 books about volleyball and has served as a writer and editor for two of the sport's major publications, Coaching Volleyball and Volleyball USA. She is the owner of Creative Liaisons, a consulting firm that works with the American Volleyball Coaches Association and USA Volleyball.
During the 1996 Olympic Games in Atlanta, Lenberg was the media subcenter manager for the inaugural beach volleyball Olympic tournament. Additionally, she was the AVCA's director of publications from 1992 to 1999.
In her leisure time, Lenberg is an avid reader who also enjoys playing volleyball and camping with her family. She, her husband, Eric, and their two children reside in Colorado Springs, Colorado.

The mission of the American Volleyball Coaches Association (AVCA) is to advance the development of the sport of volleyball by providing coaches with educational programs, a forum for exchange of opinions, and opportunities for recognition.
Incorporated as a private nonprofit educational corporation in 1981, the AVCA currently has members in all 50 states and the District of Columbia as well as numerous international members. At the collegiate level, all major NCAA conferences are represented and membership among club coaches continues to rise.
ABOUT THE CONTRIBUTORS
Paul Arrington, MD, has been a club volleyball coach for 23 years. During this time he has garnered numerous accolades, including the prestigious Bernice Reiff Epperson Award in 1996 for his contributions to juniors' volleyball. Arrington's club teams have finished first, second, and fourth at the Volleyball Festival, which is the largest girls' volleyball tournament in the United States. He began coaching the Waimea High School girls' varsity team in 1994, garnering seven league championships and six fifth-place finishes in the state tournament. Arrington has been named the league Kaua'i Interscholastic Federation (KIF) Coach of the Year six times. He is a USA Volleyball CAP level II certified coach and author of several coaching and scientific articles. Arrington has been a general surgeon in private practice in Waimea, Kaua'i, Hawaii, for 24 years. In the fall of 2005 he became a volunteer assistant coach at Dartmouth College in Hanover, New Hampshire.
Sean Byron serves as head coach for both the women's and men's volleyball programs at Rutgers-Newark in New Jersey. He led the Scarlet Raider women's team to a New Jersey Athletic Conference (NJAC) record of 20-3 and to the conference championship each year from 2002 to 2004. His women's team captured the school's first-ever NCAA Division III tournament berth, while his 2003 men's squad advanced to the Eastern Intercollegiate Volleyball Association (EIVA) semifinals, coming within a game of the Final Four. In 2002, Byron coached the USA youth men's national team to a bronze-medal finish in the World Championship qualifier. He also served as assistant coach for the USA junior national team, which posted records of 5-2 and 8-1 in international competition. Byron has been a clinician for the NCAA YES (Youth Education through Sports) program since 1995 and has received both NJAC and EIVA Coach of the Year honors.
Don Hardin has been the head women's coach at the University of Illinois since 1996 and has led his teams to five berths in the NCAA tournament, including two trips to the Sweet 16. He earned Big Ten Coach of the Year honors in 2001 and 2003. Before returning to his alma mater, Hardin guided the University of Louisville to six conference championships and five NCAA tournament appearances. While Hardin established elite programs at two different universities, his teams have averaged almost 21 wins per season, with an overall mark of 353-187. He earned Coach of the Year honors with the Cardinals in 1991 (Metro Conference) and iin 1995 (Conference USA).
Jim McLaughlin has served as head coach of the University of Washington women's volleyball team since 2001, helping to catapult the program from the bottom of the Pacific-10 Conference to a top-10 program and NCAA championship contender. After inheriting this program, which finished last in the Pac-10 standings in 2000, McLaughlin took the Huskies to the postseason in three of his first four seasons and led UW to a Final Four appearance in 2004. In 2002, he earned Pac-10 Coach of the Year honors after leading the Huskies to their best Pac-10 finish in five seasons and its seventh-ever NCAA appearance. A 14-year veteran head coach, McLaughlin has made 13 appearances in the NCAA postseason, including four consecutive seasons with Kansas State.

Julie Backstrom joined the Penn State women's volleyball staff in 2001 as an assistant coach, and after the 2004 season she became director of women's volleyball operations. As an assistant coach, Backstrom served as recruiting coordinator, and her specialties included working with the team's setters and defensive specialists. Since her return to her alma mater, the team has won 82% of their matches. During her playing career at Penn State, Backstrom earned both Atlantic 10 and Big Ten All-Academic honors.
Mike Schall has been an assistant coach to Russ Rose since 1991, making him the most veteran member of the staff other than Rose. Schall is involved in every aspect of the program, including match preparation and player development. The Nittany Lions have won more than 86% of their games during his tenure. Schall earned four letters as a defensive specialist on the Nittany Lion men's volleyball team, served as a two-year co-captain, and played in every Penn State match during his four-year career.
Russ Rose has been head women's volleyball coach at Penn State University since 1979, where his teams have never posted fewer than 22 wins in a season. Under Rose, the Nittany Lions have secured 30 or more wins in a season 18 times and 36 or more victories six times. In 2004 his squad captured its eighth Big Ten title in 14 seasons while Rose picked up his 800th career victory. His overall record of 828-151 (.846) ranks second nationally among active coaches. Rose was named AVCA Coach of the Year in 1990 and 1997, and he has been honored as Coach of the Year eight times at the regional level and 11 times at the conference level. In 2000, Rose was named the United States Olympic Committee Coach of the Year for his work with the U.S. men's team in preparation for the Sydney Olympics. He also led the U.S. men's team to a bronze medal at the 1985 Maccabiah Games and the U.S. women's team to a silver medal at the 1981 Maccabiah Games.
Joe Sagula entered his 16th year as the University of North Carolina's head women's volleyball coach in 2005. His 2003 squad finished 20-12, the sixth consecutive year it has collected at least 20 wins. The 2002 Tar Heels won 30 matches (32-4 overall) for the first time since 1985 en route to the program's first appearance in an NCAA tournament regional semifinal. They also took the Atlantic Coast Conference (ACC) regular-season championship with a 15-1 conference record. The most successful season in the history of the program concluded with Sagula garnering both Conference and Regional Coach of the Year honors. Carolina has won more conference titles—nine—than any other ACC volleyball program, and Sagula holds the most ACC wins (121) of any coach in history. He is currently serving a two-year term as president of the American Volleyball Coaches Association (2004 and 2005).
Tom Peterson entered his third year as head coach of the Brigham Young University men's volleyball program in 2005. In the 2004 season, he led the Cougars to a 29-4 record and a first-place finish at the NCAA tournament, markiing the squad's fourth national championship game in six years. Peterson also coached four All-Americans in 2004. The BYU alum and 1994 NCAA Coach of the Year was also the first to guide a non-West Coast team to a men's title (Penn State in 1994). During his six years at PSU, Peterson led the Nittany Lions to a 127-49 (.722) overall record. He also served as head coach (1995) and assistant coach (1993) to the Olympic Sports Festival East men's team, which was the champion both years. In addition to coaching both men and women's teams throughout his career, Peterson has served as the director of various community and university volleyball camps.
Joan E. Powell has coached the Coronado (Colorado) High School girls' volleyball team since 1976, leading the program to three state championships in 14 playoff appearances. Coronado also has won 3 regional titles, 10 conference championships, and 12 district titles. Powell's overall record is 449-208. Twenty-nine of her athletes have gone on to play volleyball in college, and 15 of them became coaches. She was named Women's Sports Foundation Active Female Coach of the Year in 1989. She also was the YWCA Sportswoman of Colorado Coach of the Year in 1983 and was inducted into its Hall of Fame in 2003. In 2004, Powell was inducted into the Colorado Springs Sports Hall of Fame. Powell has also been chosen to call the NCAA finals on six occasions, first in 1995 and most recently in 2004.
Stephanie Schleuder has served as head women's volleyball coach at Macalester College in St. Paul, Minnesota, since 1998 and has amassed more than 650 career wins at the Division I and Division III levels. Schleuder compiled 561 wins during her stints as head coach at the University of Minnesota (1982-1994), the University of Alabama (1974-1982), and Bemidji State University (1972). Her career record of 669-376 places her among the most successful volleyball coaches in NCAA history. In 2004, Schleuder completed a two-year term as president of the American Volleyball Coaches Association (AVCA), making her the only non-Division I coach to hold this post. She will continue to serve on the AVCA board of directors through 2006.
Taras Liskevych was head coach of the U.S. women's national volleyball team from 1985 to 1996. He holds the record among U.S. women's volleyball coaches for most wins, longest tenure, and most international matches as a coach. The U.S. squad captured the bronze medal at the 1992 Olympics, and their gold-medal finish at the 1995 World Grand Prix earned him Federation of International Volleyball (FIVB) Coach of the Year honors. Before his stint with the U.S. team, Liskevych headed the University of Pacific women's team, raising the program from the intramural club level to a national contender. His teams won six NorCal Conference titles, landing him Conference Coach of the Year honors five times. In 1983 Liskevych was national Coach of the Year. He holds a PhD from Ohio State University.
Marilyn McReavy Nolen retired at the end of the 2003 season after 32 years of coaching women's collegiate volleyball and 10 years at the helm of the Saint Louis University team. Nolen's overall record of 809-357-12 (.692) ranked third on the active NCAA Division I victory list when she retired, and she is just the third coach in Division I history to reach the 800-win milestone. She was named Conference USA Coach of the Year in 1998 and was inducted into the inaugural class of the AVCA Hall of Fame in 2003. Nolen's career began in 1969 at Sul Ross State University in Alpine, Texas, where she led teams to national championships in 1970 and 1971. She coached six seasons at Utah State University (where she won the AIAW national championship in 1978), led Kentucky to a 44-7 record in 1983, and helped restore Florida as a national power during her seven-year tenure.