Sweet + Salty: The Art of Vegan Chocolates, Truffles, Caramels, and More from Lagusta's Luscious (Hardcover)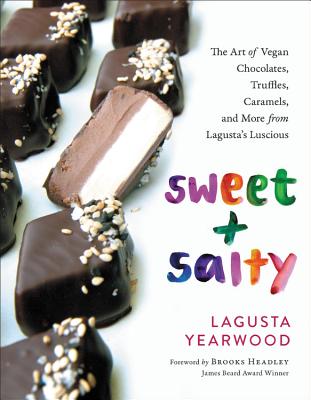 $33.00
This item is not currently available to order.
Description
---
100 imaginative vegan recipes showing home confectioners how to make artisan-quality sweets from the country's premier (and feminist/punk rock/bad-ass) vegan chocolatier

At her East Coast confectionery shops, Lagusta Yearwood takes vegan sweets to the next level, going beyond cookies, cupcakes, and pies. Sweet + Salty features over 100 luscious recipes for caramels, chocolates, bonbons, truffles, and more for anyone looking to make their own vegan confections at home. With everything from the most basic caramel to bold, arresting flavors incorporating unexpected spices and flavors such as miso caramel sauce, thyme-preserved lemon sea-salt caramels, matzo toffee, and more, Sweet + Salty is a smart, sassy, completely innovative introduction to vegan confections.

About the Author
---
Lagusta Yearwood is a restless rabble-rousing chef-turned-chocolatier. She trained at the Natural Gourmet Institute in New York City and is the founder of Lagusta's Luscious, the first vegan chocolate shop in the world. In addition to their flagship production space in New Paltz, NY, Lagusta's Luscious operates a café, Commissary, and a retail sweets shop, Confectionery! in the East Village in NYC, which is a collaboration with her best friend's vegan macaron business, Sweet Maresa's.

Praise For…
---
"Lagusta's Luscious' fair trade chocolates are my favorite gifts for friends and family. The assortment boxes have truffles, bonbons, caramels and toffee--and my friends are always shocked that they are vegan."
—Emily Deschanel, actress

"I have tasted a wide range of Lagusta's delicacies, and
watched with awe as she has manifested her ambitious culinary visions, without
compromising any of her ethical values. Thank you Lagusta, for sharing the
secrets of your kitchen with these gorgeous and clear recipes, and for sharing
so much more of yourself and the broader context that informs them."—Sandor Ellix Katz,author of Wild Fermentation and The Art of Fermentation

"Lagusta shouldn't share her candy secrets with us, but she
does. And we should cherish them. Learn how to make beautiful shiny caramels,
rich truffles and all kinds of funky, fancy treats. And do it all with ethics
and style!"—Isa Moskowitz, authorof I Can Cook Vegan, Isa Does It and more; coauthor of Veganomicon

"Anyone who has struggled with living ethically while giving
space for daily pleasures will find a kindred spirit in Lagusta Yearwood, an
self-proclaimed 'fake back-to-the-land anarcho-punk' whose love for chocolate
and fellow creatures, human and non-human, is infectious from page 1 of this
book. Her vulnerability and openness infuse the book's tone throughout, making
you trust her hard-won expertise in the delicate art of vegan chocolate
confectionery-making. As your guide, Yearwood is uncommonly kind, humble, and
generous, and we're so lucky to have all been invited into her shop."—Soleil Ho, restaurantcritic of The San Francisco Chronicle

"I never imagined I'd be wiping tears of laughter while reading a tutorial on tempering chocolate, but here we are. Sweet & Salty is a captivating read and an indispensable resource for anyone with even the slightest interest in confections. It's bursting with hard-earned wisdom, bold culinary innovation, necessary (if uncomfortable) context, a strong sense of purpose, [and] a lot of very, very infectious passion."—Lukas Volger, authorof Start Simple and EditorialDirector of Jarry

"Lagusta imagines a future
for a food system I'd like to live in. Her sharp, lucid writing illuminates a
world of flavors that challenge worn notions of what vegan sweets should taste
like. She demonstrates how living true to our politics can also push us to be
more adventurous cooks."—Mayukh Sen, James Beard Award-Winning Writer

"Any journey upstate must include a visit to Lagusta's sweet
shops, and her highly personalized, beautiful book is captures this experience
perfectly."—Terry H. Romero,author of Show Up for Salad and coauthorof Veganomicon