Secrets of the Magickal Grimoires: The Classical Texts of Magick Deciphered (Paperback)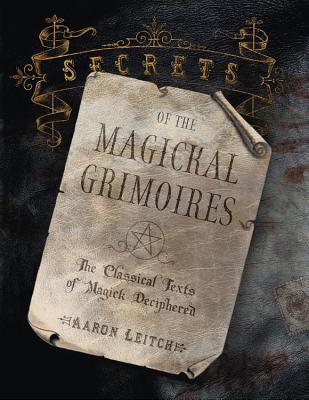 Description
---
The magickal methods and esoteric knowledge of medieval Europe (476 to 1453 C.E.) form the ancestral backbone of modern ceremonial magick. To understand medieval magick, it's necessary to know the primary repositories of this knowledge--the grimoires of spells, incantations, and ritual instructions for working with angels and conjuring spirits. And to understand the grimoires, you must delve into the life and times of the magicians who wrote them.
Scholar and magician Aaron Leitch sheds light upon the greatly misunderstood subject of the medieval mage in this comprehensive reference manual. In addition, he provides valuable comparisons among the magical practices described in the grimoires and various shamanic methods of working with the spirit world.
About the Author
---
Aaron Leitch has been a scholar and a spiritual seeker for nearly three decades. He is a member of the Hermetic Order of the Golden Dawn, the Gentlemen of Jupiter, and the academic Societas Magica. His writings cover such varied fields as ancient Middle Eastern religion and mythology, Solomonic mysticism, shamanism, Neoplatonism, Hermeticism and alchemy, traditional Wicca and Neopaganism, the Hermetic Order of the Golden Dawn, Thelema, angelology, Qabalah, Enochiana, African Diaspora religions, hexcraft and hoodoo folk traditions, psychology and consciousness expansion, cyberspace and virtual reality, and modern social commentary. He is the author of Secrets of the Magickal Grimoires and The Angelical Language, Volumes I and II. Visit his website at kheph777.tripod.com or his blog at aaronleitch.wordpress.com.