Sepher Raziel: Liber Salomonis: A Sixteenth Century English Grimoire (Hardcover)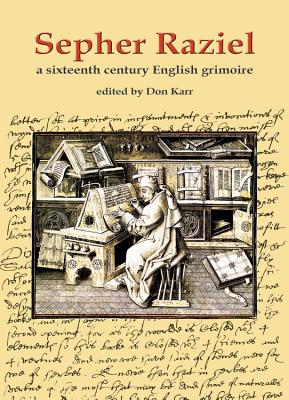 $71.50

Available in our Warehouse: Usually Ships in 3-8 Days
Description
---
Sepher Raziel--also called Liber Salomonis--is a full grimoire in the Solomonic tradition from a sixteenth century manuscript. It contains seven books: the Clavis, concerned with astrology and its use in magic, with precise interactions between planets, Signs, and Houses; the Ala, outlining the magical virtues of stones, herbs, and animals; the Tractatus Thymiamatus, which determines perfumes and suffumigations used in the Art; a Treatise of Times detailing the correct hours of the day for each operation; a Treatise on Preparations on ritual purity, and abstinence; Samaim, on the different heavens and their angels; and finally, a Book of Names and their virtues and properties, being seven semiforas of Adam and seven semiforas of Moses.
The Sepher Raziel text is given in two forms: a literal transcription with no changes in spelling or wording and a modern English version.
This volume also includes a foreword which offers an overview of Raziel manuscripts, which represent a number of independent traditions, an essay on the literature of Solomonic magic in English, an introduction to the Sepher Raziel manuscript presented, an appendix on incense nomenclature as a supplement to Tractatus Thymiamatus, a list of printed notices and manuscript sources of Sepher Raziel, and a full bibliography of printed works on Solomonic magic and items of related interest.
About the Author
---
Don Karr is a highly regarded expert on the hermetic arts.Stephen Skinner began his career as a Geography lecturer and magazine publisher, but his long term interests have always been Western magic and feng shui. During the 1970s he was the driving force behind Askin Publishers, producing a number of classic magical works by Cornelius Agrippa, Paracelsus, Austin Osman Spare, Aleister Crowley, and others. During the 1970s he co-wrote many books with Francis King, including the still popular Techniques of High Magic. Also with Francis King he wrote Nostradamus. His interest in prophecy stimulated by this book, he went on to write the best selling Millennium Prophecies. Stephen is credited with bringing the art of Feng Shui to the West, and in 1976 he wrote the Living Earth Manual of Feng Shui, which was the first English book on feng shui in the 20th century. Stephen has written more than 35 books, which have been published worldwide in 28 different languages. These books have had introductions by such diverse people as Colin Wilson, HRH Charles Prince of Wales, and Jimmy Choo, shoe designer to the stars. Stephen lives in Singapore. Stephen is the first Westerner to be awarded the title of Grand Master of Feng Shui by the International Feng Shui Association.