The Dictionary of Demons: Tenth Anniversary Edition: Names of the Damned (Hardcover)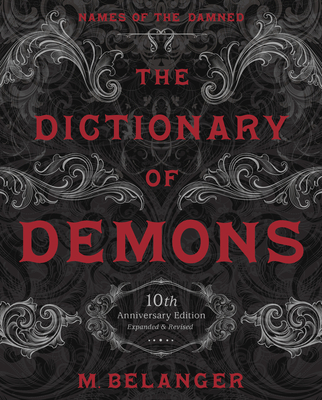 $50.00
This item is not currently available to order.
Description
---
Legions of Demons Laid Bare
New Expanded Hardcover Edition
The Dictionary of Demons is the single most comprehensive book on demons ever published in the history of Western occultism. This limited-print-run, tenth-anniversary hardcover edition includes more of the deeply researched information that made the first edition a must-have for demonologists everywhere. Within these pages you will discover more than two hundred additional demons as well as new essays, appendices, and more than fifty extra illustrations.
With detailed notes on select grimoires and other reference materials, this cross-referenced alphabetical listing of more than 1,700 demons shares their duties, appearances, and original sources. You will also discover author M. Belanger's insightful essays on the roots of demonic names, exorcisms in the ancient world, the gender of demons, the five-pointed star of Baphomet, and much more. In its unmatched depth and breadth, The Dictionary of Demons is an essential resource for serious students of demonology and the occult.
About the Author
---
M. Belanger is an occult expert, educator, media personality, and author of over thirty books on paranormal and occult topics. Founder and lead clergy of the magickal group House Kheperu, Belanger is most widely recognized for work as a psychic on A&E's Paranormal State and Osbourne Media's Portals to Hell. Consulted for numerous documentaries, books, and courses, Belanger has lectured on paranormal and occult topics at colleges and universities across North America and was a National Merit Scholar. A prolific and versatile creator, Belanger has also contributed work to projects as wide-ranging as Marvel AR, HBO's True Blood, CNN Headline News, CSI, Nox Arcana, and multiple RPGs.To learn more about Belanger's work, start by exploring www.MichelleBelanger.com, where you'll find classes, books, music, and events at the retreat center, Inspiration House. Follow Belanger on Twitter, YouTube, Facebook, and Instagram under the handle sethanikeem.