Grow Easy Vegetables: Essential Know-how and Expert Advice for Gardening Success (DK Grow) (Paperback)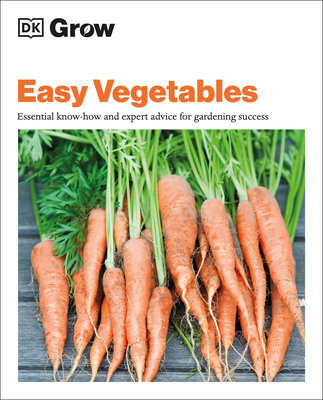 $12.99
This item is not currently available to order.
Description
---
Discover how to grow it yourself with experts tips, simple step-by-step guides and gorgeous illustrations in this fantastic veg-growing guide

Growing your own vegetables is a rewarding venture that's both affordable and delicious, but a novice gardener might not know where to begin. This is your no-fuss guide to vegetable gardening.

Do you want to learn how to start and sustain your own vegetable garden throughout the year? This vegetable gardening book for beginners will help you choose and care for more than 40 different varieties, all specially selected for successful growing. 

You don't have to be a horticulture expert to get started, this indispensable reference book will take you through every single step! It includes: 

   • Tips on how to care for more than 40 different vegetable varieties
   • Practical, jargon-free know-how and simple gardening techniques
   • An easy-to-follow format to help grow your gardening knowledge

From vegetable garden must-haves to less-common crops like edamame beans, this is a one-stop guide to growing vegetables that are easy to grow! Discover detailed information on how to sow, plant, feed, water, protect and harvest your vegetables.

Let It Grow!

Gorgeous, full-color photography provides plenty of inspiration and ideas for your patch! Expert tips and step-by-step instructions on every page help guide you on how to care for your vegetables. 

Grow Easy Veg covers everything you need to know about growing herbs and vegetables, while expert tips help you troubleshoot as you go. It's the perfect book for first-time gardeners!

Complete the Series:

Make your green-fingered dreams a reality with the Grow series from DK. Learn how to brighten up even the trickiest areas in Grow Containers, or discover how to garden more sustainably in Grow Eco-Gardening. Alternatively, there are more titles to explore such as Grow Pruning & Training and Grow Houseplants.
About the Author
---
Jo Whittingham is a gardener and writer with a postgraduate degree in horticulture from the University of Reading and a passion for growing fruits and vegetables. Awarded the Garden Writers' Guild News Journalist of the Year in 2004, she writes a monthly column for The Scotsman newspaper, as well as features for many leading gardening magazines. She authored DK's bestselling Simple Steps to Success: Vegetables in a Small Garden, and was consultant on Grow Vegetables, Kitchen Garden, and Grow Fruit.