My First Seasons: Let's Learn About the Year! (My First Tabbed Board Book) (Board book)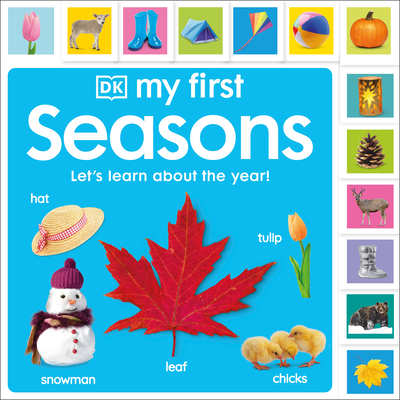 Description
---
This busy board book with tabs gets little ones thinking, talking, and learning new words about the seasons!

Let's enjoy the different seasons and find out what makes each one special.

What's the best thing about summer? What do farmers harvest in the fall? From finding out which baby animals are born in spring to experiencing all the outdoor fun of a winter wonderland, babies and toddlers will love learning all about the things you can see and do in each season.

Each section of this engaging and educational book is dedicated to different types of weather, wildlife, and activities that can occur throughout the year, such as spring flowers, camping in the summertime, and autumn weather. Bright, colorful photographs illustrate each word, with easy to read labels so your little one can sound out the words with you. The interactive book encourages children to imagine a summer holiday, choose their favorite things, or count the different winter animals on the page. This delivers a rounded early learning reading experience, and helps your little one develop early speaking, listening, and observation skills.

The book has strong board pages made especially for young children. The chunky tabs along the top and side are easy to grab to help with early motor control. Preschoolers will quickly recognize the picture on the tab which will take them straight to the page with their favorite season.
About the Author
---
We believe in the power of discovery. That's why we create books for everyone that explore ideas and nurture curiosity about the world we live in.
 
From first words to the Big Bang, from the wonders of nature to city adventures, you will find expert knowledge, hours of fun and endless inspiration in the pages of our books. 

https://www.dk.com/