Underwater World: Aquatic Myths, Mysteries, and the Unexplained (Mythical Worlds) (Hardcover)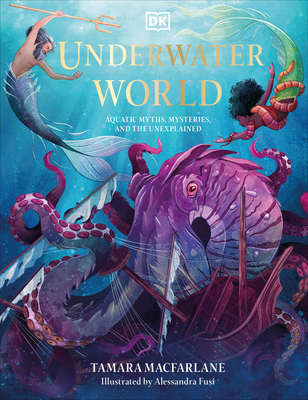 $17.99

Available in our Warehouse: Usually Ships in 3-8 Days
Description
---
Dive into the depths and discover the mysteries of the world of water in this beautiful book for young readers.

From myths and legends, folklore and fables, to amazing discoveries, and undiscovered depths – children will love exploring the amazing world of water in this beautifully illustrated book for young readers.

Dive between the pages of Underwater World into the ocean depths to discover sunken lands, and sail in and out of legends laden with weird and wonderful monsters. This educational book for 7-9 year olds will teach curious children all about the ocean, magical creatures and mythology, mysteries and the unexplained. 

Ready for an adventure? Dive straight in to discover: 

- A strikingly visual guide to the innermost depths of our Earth
- Exquisite hand-drawn illustrations and maps making the information engaging and accessible
- A diverse range of fascinating information using captions and detailed cross sections

Water – it can be hard as rock, silky soft, and often barely there. We can't live without it, but can't breathe within it. This shape-shifting element washes in on our shores, pours on our towns, and winds through our fields. We are mostly made out of water, but how much do we really know about it? Children will love learning all about the world of water in this beautifully illustrated and colorful book. 


At DK, we believe in the power of discovery.

So why stop there? 

If you like Underwater World, then why not complete the collection? Take a peek inside the enchanting and mythological world of dragons with Dragon World, and discover their fascinating history.
About the Author
---
Tamara Macfarlane is the owner of Tales on Moon Lane Children's Bookshop (Winner of the Children's Bookseller of the Year award at The British Book Awards 2020), Moon Lane Education, and Moon Lane Ink CIC. She has over 15 years' experience working with children and schools, and combines running the two bookshops with writing children's books. She currently has series with Hodder, Simon and Schuster, Troika Books, and Puffin. Tamara has judged many high-profile book awards, and is currently Vice Chair of the World Book Day committee.


Alessandra Fusi was born in Rome, where she attended the IED Institute of Art and Design, graduating in Illustration and Multimedia Animation. She has worked as an illustrator of children's books, puzzle games, and stationery products. As a painter, she has exhibited her work in various solo and collective art shows across Italy, Europe, and the United States. She has a passion for animation and loves all things illustration, so she's always learning new things, as well as teaching them, through the courses and workshops that she organizes for her cultural association "Imagoblu," based in Bologna. She lives and works in Bologna, with her boyfriend and her chubby ginger cat, Rino. She loves fairytales, tea, music, swing dancing, and cats (of course).