Grow Fruit: Essential Know-how and Expert Advice for Gardening Success (DK Grow) (Paperback)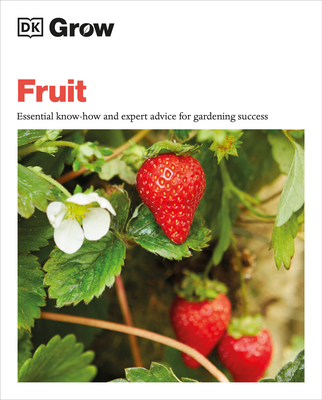 Description
---

The UK's leading gardening publisher brings you a horticultural handbook to fulfill your every need and seed! Get your gardening gloves on and join the green-fingered journey to growing fruit successfully at home. 

A must-have volume for first-time gardeners, Grow Fruit has tons of tips and tricks to sow, grow, plant and propagate a diverse range of fruit, from plums to persimmons, blackcurrants to blueberries, this grower's guide truly has it all! Try your hand at more than 40 different varieties of fruit trees, bushes, canes and vines, including allotment plot staples such as damsons and blackcurrants, as well as lesser-grown options like kiwis and pineapple guavas.

With passion in every page, you can enjoy:

- A jargon-free practical guide to harvesting home-grown fruits.
- Easy to follow step-by-step instructions of fundamental gardening techniques.
- Exploration of popular fruits as well as lesser-known options.

In today's society, the ever-growing pressure of balancing family life with a career suggests a lot of today's green-fingered gardeners simply lack time for growing fruit and vegetables at home. We believe it's time to change that!

Whatever your horticultural hopes may be, author and gardener Holly Farrell brings you a fantastic fruit-growing guide that is sure to shape first-time gardeners like never before, full of top tips to help your garden thrive!  An ideal gift for first-time gardeners, budding botanists or the green-fingered lover in your life, make sure to get those gardening gloves on, and join the journey today!

At DK, we believe in the power of discovery.

If you like Grow why not try the other titles in our Grow series? Learn how to brighten your garden all year round with Grow Bulbs, enjoy a no-fuss guide to container gardening with Grow Containers or minimize garden waste with Grow Eco-Gardening.

Ready, set, let's grow!
About the Author
---
Holly Farrell is a gardener, author, and journalist. She has written a range of titles, including RHS Plants from Pips, The Jam Maker's Garden, Planting Plans for Your Kitchen Garden, and Grow Your Own Cake: Recipes from Plot to Plate.