Grow Trees: Essential Know-how and Expert Advice for Gardening Success (DK Grow) (Paperback)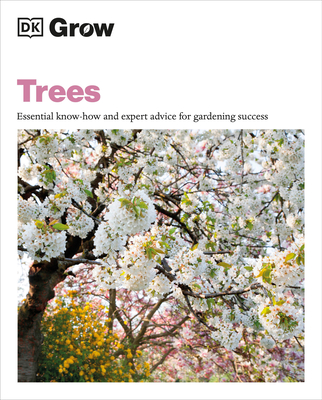 Description
---
Discover the secret to successfully growing trees in your garden.

The UK's leading gardening publisher brings you a horticultural handbook to fulfill your every need and seed! Get your gardening gloves on and join the green-fingered journey to growing trees successfully from the comfort of your own home and garden. 

Ideal for first-time gardeners, Grow Trees contains everything you need to bring stunning seasonal interest, structural elegance, and biodiversity to your garden. Learn how to plant and care for your trees with tips on selecting the right site, mulching, and pruning, and discover the perfect tree for your outdoor space with a handy directory including the best trees for small spaces, trees for a tropical look, and trees for maximum carbon capture.

Part of the Grow low-price paperback gardening series by DK - the UK's leading and highly regarded practical gardening publisher  targeting first-time gardeners, Grow Trees proves the perfect gardening book by:

- Tapping into the gardening for mental health trend: studies suggest that growing bonsai can reduce stress, improve mood, and bring about therapeutic benefits (Bonsai Tree Gardener, 2021).
- Targeting beginner gardeners seeking simple and easy-to-follow guidance on growing trees in their gardens
- Challenging experienced gardeners looking to introduce more trees into their planting.

At DK, we believe in the power of discovery.

If you like Grow Trees why not try the other titles in our Grow series? Learn how to brighten your garden all year round with Grow Bulbs, enjoy a no-fuss guide to container gardening with Grow Containers or minimize garden waste with Grow Eco-Gardening.


Ready, set, let's grow!
About the Author
---
Zia Allaway is an author, editor, and journalist. She writes a regular column on gardeners for Homes & Gardens magazine; has written a range of titles for DK, including Grow Compost, RHS Practical House Plant Book, RHS Practical Cactus & Succulent Book, Indoor Edible Garden, and RHS What Plant Where; and has also contributed to RHS Encyclopedia of Plants and Flowers.