My Book of Cats and Kittens: A Fact-Filled Guide to Your Feline Friends (Hardcover)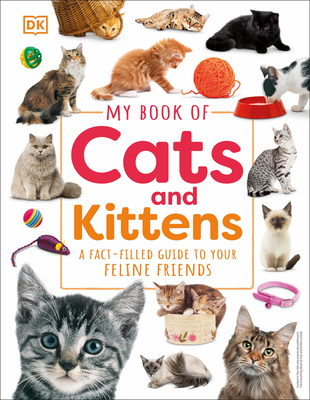 Description
---
Find out about the lives of our adorable furry friends in this exciting guide to cats and kittens.

Learn everything there is to know about our furry feline friends in this adorable book of cats for children. Discover fascinating information about cats and kittens – from their hair type, fur pattern, colors, and distinct personalities, to the differences and similarities that celebrate the unique identity of every feline!

Children aged 5-7 can learn about the profiles of 45 different cat breeds, such as the British Shorthair, Bombay, Siamese, Munchkin, Snowshoe, and more. Young cat lovers will enjoy finding out how cats evolved from wild animals to become pets, and get an insight into their eating habits and preferences as well as how to care for them.

This adorable cat book for children includes:

- Fact files on over 50 breeds and features many more throughout the book, revealing their individual characteristics.
- A science-focused and fact-packed route into learning about cats.
- Fact files for each featured breed providing key information, such as origin, size, character, and color.
- A fantastic first introduction to the lives of these increasingly popular pets, as well as pet care, such as how often kittens eat and how to help them groom.

My Book of Cats and Kittens is an engaging and informative children's book that will not only engage curious minds, but will also make them respect and understand their pet cats better. Filled with adorable photographs, simple illustrations, and fantastic facts, this book is a must-have for children who love animals, especially those who have a pet cat at home or whose families are thinking of getting one.

Complete the series

This delightful book about cats is part of the My Book of series of educational books for children, and also includes My Book of Dogs and Puppies, My Book of Rocks and Minerals, My Book of Fossils and My Book of Stars and Planets.
About the Author
---
We believe in the power of discovery. That's why we create books for everyone that explore ideas and nurture curiosity about the world we live in.
 
From first words to the Big Bang, from the wonders of nature to city adventures, you will find expert knowledge, hours of fun and endless inspiration in the pages of our books. 

https://www.dk.com/