Playful Wonders: 50 Fun-Filled Sensory Play Activities (Hardcover)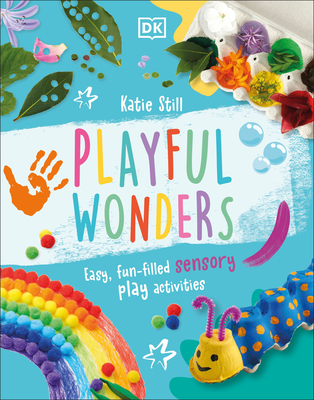 $14.99

Coming Soon - Available for Pre-Order Now
Description
---
This activity book is full of simple, easily accessible, sensory play ideas for any and all occasions, featuring everything you need to feed your child's curiosity and inject more play into their day.

There's playtime for any place or occasion, whether it's during bath time, in the kitchen, or on a walk through the park! This book will show little ones aged 3-5 how kitchen rolls can be turned into a car garage or how forgotten toys can be repurposed for fun activities, whether that's rescuing them from jelly or searching for them in a torch-lit scavenger hunt. 

Using household items, with photographs of each activity and easy-to-follow instructions, it's never been easier for kids to interact imaginatively with their environment. What's more, each activity has a teachable moment in store! While your kids are getting their hands dirty, they will learn all about different shapes, letters, colors, and so much more! 

This exciting early learning book for kids features:

- More than 45 engaging, simple sensory play activities.
- Each activity includes objects that are easy to get hold of and are inexpensive.
- Every page features detailed instructions and photographs of the activities, which makes each project easy to follow.
- Includes notes that inform the parents about how the sensory element of each activity will benefit the child.

Playful Wonders brings endless hours of creative play that children and adults will love sharing together! Children will have fun getting hands-on with this interactive book,  featuring more than 45 fun-filled, sensory play activities including creating boats out of corks, making a stove out of a cardboard box, and crafting their own herby playdough.
About the Author
---
Katie Still is a mum of two. She understands that children are growing up in a world that's always on the go and sometimes they need to slow down and embrace the little playful moments that life brings. As well as a mum, Katie is an early year's practitioner and this experience is what inspired the creation of Playful Wonders.

The Playful Wonders Instagram page (@playfulwonders) is bursting with simple ideas that adults and carers can do with their little ones. Her Instagram has over 16k followers and endorsements from celebrities, including Stacey Solomon and Giovanna Fletcher.