The World Encyclopedia of Flags: The Definitive Guide to International Flags, Banners, Standards and Ensigns, with Over 400 Illustrations (Hardcover)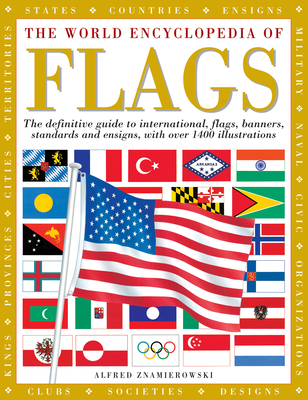 $16.99
Email or call for price.
Description
---
Throughout the ages, flags have been a means of cultural and national identification and communication. From military standards flown in battle thousands of years ago, to painted faces at football matches and other sports fixtures, flags and emblems have always been a means of representation for groups and associations around the world.This fully revised and updated book is the definitive visual reference to all the international flags. Compiled by a leading authority, the work is an exhaustive and up-to-date summary of world flags, from the largest countries to the smallest states.The first section, Flags Through the Ages, starts with The Origin and Development of Flags, a fascinating overview of flags throughout history, from the Egyptian standards dating from 3400BC, to flags from the classical and medieval periods and the ensigns of maritime nations of the 20th century.All About Flags covers the wealth of shapes and patterns in flag design developed over the ages, as well as flag-making techniques, terminology, usage and etiquette. Emperors, Sovereigns and Presidents depicts all the most important royal standards and presidential flags from each significant period in history, with illustrations from the 14th century to the present day. Government Flags includes flags of departments and agencies, governors, police departments and coastguards. Military Signs deals with regimental colours, flags of armed forces, air force flags and rank flags. Naval Ensigns and Flags charts all the flags used at sea by the navy. Flag Families looks at national flags that share similarities and traces their development from the 18th century onwards.The second section, The World of Flags, is divided into several subtopics including the flags of countries and their territories, Flags of International Organizations, Regional and Local Flags, and Flags of People and Causes. Each flag is illustrated with information on its date of adoption, proportions and symbolic meaning, where relevant.This is both a stunning reference book and an invaluable educational resource. It offers historical, geographical and political insights into one of our most ancient forms of identification and communication.