Heroine Complex (Paperback)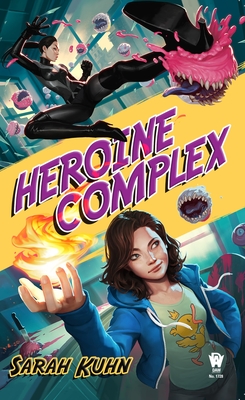 $17.60

Available in our Warehouse: Usually Ships in 3-8 Days
Other Books in Series
This is book number 1 in the Heroine Complex series.
Staff Reviews
---
Evie knows how to handle the mood swings of Aveda Jupiter, her best friend and San Fransisco's resident demon-fighting superhero. It's what makes her a great assistant, and she prides herself on her job. But when Aveda becomes injured and talks Evie into pretending to be Aveda, Evie discovers that her own emotions are harder to handle, especially when her own superpowers are stronger than her boss's. If you want cupcakes possessed by demons, witty superhero banter, a plethora of complicated and beautiful female friendships, and a rather sexy scientist, HEROINE COMPLEX is the right book for you. HEROINE COMPLEX shines the spotlight on the characters who would rather hide in the shadows and creates a story about the true nature of friendships, standing up for what you believe in, and finding ways to believe in yourself. Anxious and quiet Evie finds her voice and her place - both among her friends and in your heart - in this effortlessly inclusive and completely fun book.
— Nicole
Description
---
Asian-American superheroines Evie Tanaka and Aveda Jupiter protect San Francisco from perilous threats in the first book in Sarah Kuhn's snarky and smart fantasy trilogy • "The superheroine we've been waiting for." —Seanan McGuire

Being a superheroine is hard. Working for one is even harder.

Evie Tanaka is the put-upon personal assistant to Aveda Jupiter, her childhood best friend and San Francisco's most beloved superheroine. She's great at her job—blending into the background, handling her boss's epic diva tantrums, and getting demon blood out of leather pants.

Unfortunately, she's not nearly as together when it comes to running her own life, standing up for herself, or raising her tempestuous teenage sister, Bea.

But everything changes when Evie's forced to pose as her glamorous boss for one night, and her darkest secret comes out: she has powers, too. Now it's up to her to contend with murderous cupcakes, nosy gossip bloggers, and supernatural karaoke battles—all while juggling unexpected romance and Aveda's increasingly outrageous demands. And when a larger threat emerges, Evie must finally take charge and become a superheroine in her own right...or see her city fall to a full-on demonic invasion.
About the Author
---
Sarah Kuhn is the author of the Heroine Complex series—starring Asian American superheroines—for DAW Books. She also wrote The Ruby Equation for the comics anthology Fresh Romance and the romantic comedy novella One Con Glory, which earned praise from io9 and USA Today and is in development as a feature film. Her articles and essays on such topics as geek girl culture, comic book continuity, and Sailor Moon cosplay have appeared in Uncanny Magazine, Apex Magazine, AngryAsianMan.com, IGN.com, Back Stage, The Hollywood Reporter, StarTrek.com, Creative Screenwriting, and the Hugo-nominated anthology Chicks Dig Comics. In 2011, she was selected as a finalist for the CAPE (Coalition of Asian Pacifics in Entertainment) New Writers Award. You can visit her at heroinecomplex.com or on Twitter: @sarahkuhn.
Praise For…
---
"Sarah Kuhn creates characters you want to befriend, worlds you want to live in, and situations you can't begin to imagine. Heroine Complex is at once fiendishly snarky yet colossally big-hearted." —Javier Grillo-Marxuach, writer and producer for Lost, creator of The Middleman

"Smart, sexy, and filled with beautifully fleshed-out/kick-ass women, Heroine Complex is the kind of read that sticks in your brain like a fanged cupcake.... I adored it." —Amber Benson, author of The Witches of Echo Park

"The superheroine we've been waiting for; the urban fantasy we deserve. Sarah Kuhn is the total package: comedy, tragedy, and sincerity. Grab your cape. We're saving the city."
—Seanan McGuire, New York Times-bestselling author of the October Daye series

"Every page of Sarah Kuhn's novel delighted me immensely.... Kuhn's writing is bouncy and engaging, and Evie is very clearly spun into a captivating character. I also have to give Kuhn props for balancing romance and humour and drama, and making me wish that Heroine Complex would go on just a little bit longer." —Book Riot

"Romance, adventure, kick-butt action sequences, and killer cupcakes combine to make this a great example of how weird and wonderful urban fantasy can be in the right hands." —B&N Sci-fi & Fantasy Blog

"Onomatopoeias? Check. Snarkiness? Check. Kick-ass Asian-American superwomen saving San Francisco from demon-possessed cupcakes? Check and check, Kuhn's Heroine Complex is a ridiculously fun read." —RT Reviews (top pick)

"Sarah Kuhn's Heroine Complex is a delight." —Leigh Bardugo, New York Times-bestselling author of Crooked Kingdom

"A fresh take on a superheroine story. Full of wit and of course danger!... This seriously was an entertaining read. The character development was superb." —Boundless Books

"Love the humor and wacky hijinks, along with character development.... This is everything I've ever wanted in a book!" —Dreaming of Cats