The Complete Book of Corvette - Revised & Updated: Every Model Since 1953 (Complete Book Series) (Hardcover)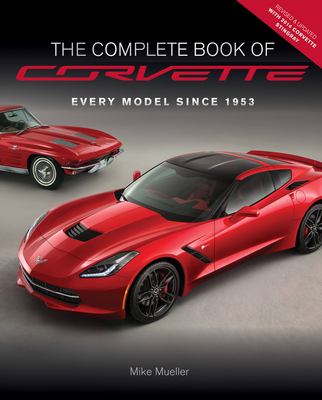 $55.00
This item is not currently available to order.
Description
---
The ultimate book for Corvette lovers and fans of America's premier high-performance vehicle. Since the release of the first Corvette in 1953, Chevrolet's flagship sports car has become a timeless part of American culture and a household name across the globe. No matter the model or year, one can instantly pick out a 'Vette—from the four chrome-ringed headlamps of the late-1950s models to the sharp edges of the 1960s Sting Ray, the signature curved wheel-well moldings on 1970s bodies, and up to the aggressive aerodynamics of the Corvette C6. But while all are undeniably beautiful machines, none approach the astonishing technology packed into Chevrolet's latest: the seventh-generation 2014 Corvette Stingray, which marks the historic resurgence of the Stingray badge for the first time since the mid-1970s. In The Complete Book of Corvette, American automotive expert Mike Mueller details all of the generations, offering the definitive, all-encompassing volume showcasing over 60 years of Corvette history. Created in cooperation with General Motors and illustrated with 500 color and black-and-white photos from GM's exclusive Design and Media Archives, the book highlights the development, tech specs, and visual prowess of the entire Corvette line. From that first 1953 'Vette to the brand-new 2014 Corvette Stingray—the triumphant culmination of Chevrolet's longstanding sports car expertise—The Complete Book of Corvette pays tribute to one of America's proudest sports car traditions and the innovative company behind it.
About the Author
---
Mike Mueller has worked as an automotive photojournalist since 1991. A lifetime car enthusiast, Mueller has written and photographed more than 30 automotive and truck history books and contributed photography to at least that many more. His byline has appeared in countless magazines over the years, including Vette and Corvette Fever. Among his long list of titles are Motorbooks' Chevy Chevelle 50 Years, The Complete Book of Classic Dodge and Plymouth Muscle, Camaro: 50 Years of Chevy Performance, and The Complete Book of Ford Mustang.
Praise For…
---
"It's a massively useful reference work if you want to compare and contrast dimensions, power outputs, weights, etc., which are presented in tabular form, while there's an appendix that covers the options available each year of the 'Vette's life. The absence of these for-addicts-only intricacies frees up the main text which allows non-fanboys to dive in for a genuinely good read." - Racer.com / Sports Car Club of America
'glossy, beautifully printed, with a knowledgeable and entertaining text from one of Americaâ??s most respected automotive authorsâ?¦ Thereâ??s no denying, itâ??s a lot of book for the money. Highly recommended.'
'Every Corvette fan needs this book... high on the gift ideas list for any petrolhead. Recommended.'