DIY Hydroponic Gardens: How to Design and Build an Inexpensive System for Growing Plants in Water (Paperback)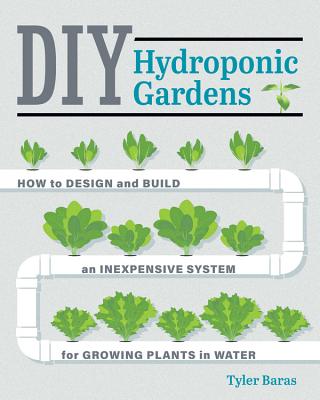 $26.99

Available in our Warehouse: Usually Ships in 3-8 Days
Description
---
With practical information aimed at home DIYers, author Tyler Baras (Farmer Tyler to his fans) shows exactly how to build, plant, and maintain over a dozen unique hydroponic systems, some costing just a few dollars to make.
No soil? No sunlight? No problem. A hydroponic growing system gives you
the power to grow plants anywhere
. Even if you live in an area where water is scarce, a hydroponic system is the answer you've been looking for. Hydroponic systems are sealed and do not allow evaporation, making water loss virtually nonexistent. Simply suspend your essential nutrients in a water-based solution and circulate them to the plant roots in a contained network of vessels and tubes. This accessible guide provides the solid information you need for hydroponic gardening success.
Farmer Tyler shows you, with detailed step-by-step photos, precisely how to create these systems, and how to plant and maintain them.
All the information you need to get started
with your home hydroponic system is included:  
Recipes for nutrient solutions
Light and ventilation sources
Comprehensive equipment guide
Growing and maintenance instructions
12+ hydroponic system builds
Complete crop selection charts
DIY Hydroponic Gardens
is the best resource available for getting started in hydroponics.
About the Author
---
Tyler Baras has a range of urban agricultural experience, from homesteading to commercial hydroponics. While completing his BS in Horticultural Sciences at the University of Florida, he traveled overseas to study Organic Agriculture in Spain and Protected Agriculture (greenhouse production) in China. After graduation, he worked as a grower for 3 Boys Farm Inc., the first certified organic recirculating hydroponic farm in the United States. In 2013, Tyler moved to Denver, Colorado, where he worked as the hydroponic farm manager at The GrowHaus. He managed a profitable urban farm while creating a successful hydroponic internship program with a 90% job placement rate for graduates. The hydroponic farm at The GrowHaus is currently managed by alumni of the farm internship program and continues to provide lettuce for Wholefoods, Safeway, and several local markets. While at The GrowHaus, Tyler started creating educational videos and blog posts about farm tech which he continues to post on his website FarmerTyler.com. He has had multiple appearances on P. Allen Smith's Garden Home, which airs on national PBS. Currently, Tyler manages the Dallas Grown hydroponic greenhouse in Dallas, Texas, and works as Special Projects Manager for Hort Americas. Farmer Tyler continues to produce video content, which can be seen at Urban Ag News YouTube and Farmer Tyler YouTube!
Praise For…
---
Readers serious about home hydroponic gardening will find this a useful guide to getting set up.—Booklist