Vault of Frankenstein: 200 Years of the World's Most Famous Monster (Hardcover)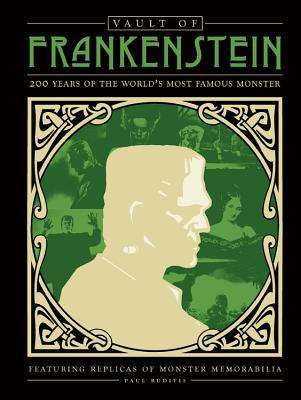 $32.99
This item is not currently available to order.
Description
---
The Vault of Frankenstein traces the incredible history of how the nameless abomination in Shelley's classic novel became a pop culture icon. Removable replica memorabilia—Shelley's manuscript pages, movie posters, a playbill, and a photograph of Boris Karloff on set for the iconic 1931 portrayal of the character—add an interactive element to this amazing retrospective.
Beginning with the story of how
Mary Shelley
first conceived of the novel (on a stormy night on the shores of Lake Geneva),
The Vault of Frankenstein
traces
the Creature's evolution from nameless literary character to international superstar
, appearing in films, TV shows, comic books, and commercial merchandise.
Frankenstein's monster
has been a hero and a villain, in both comedies and dramas. He has
tap danced with Gene Wilder
, held a daisy by a stream, and even
appeared on cereal boxes
. With special attention placed on the
1931 film
that lifted Frankenstein's monster to a new level of stardom, this book explores the many facets of this enduring—and often tragically misunderstood—character.
Fantastic
replica memorabilia
—
enclosed in an elegantly designed envelope
inside the back cover—bring the history to even more vivid life as you hold it in your hands:
The Bride of Frankenstein movie poster
Pages from Mary Shelley's original manuscript of Frankenstein; or, The Modern Prometheus
Photo of Boris Karloff on the set of Universal's Frankenstein
Playbill for Presumption; or The Fate of Frankenstein, the first stage adaptation of 
Frankenstein
Frankenstein movie poster
Relive the Creature's greatest pop culture moments in this new retrospective that commemorates the 200th anniversary of the publication of Mary Shelley's masterpiece.
About the Author
---
Paul Ruditis is a New York Times best-selling author and pop culture addict who has written companion books for TV shows, including The Walking Dead, Buffy the Vampire Slayer, Charmed, Star Trek, and The West Wing. His diverse resume also includes original young adult novels, comic books, and novelty books for all ages. 
Praise For…
---
Vault of Frankenstein is not only a loving tribute; it's a great resource for anyone who appreciates a timeless classic—Geekstronomy

Profusely illustrated, Vault of Frankenstein is a testament to the multiplicity of contradictory meanings that can fan out from an original image or idea—Shepherd Express